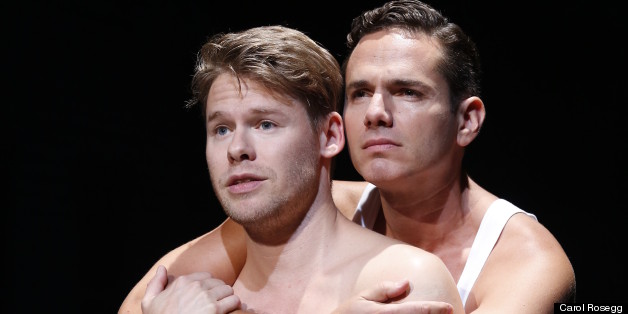 From 1982's "Torch Song Trilogy" to 2013's "The Nance," the theater world has rarely shied away from depicting gay themes onstage. Still, Chad Beguelin's "Harbor" breaks fresh ground as a theatrical examination of the modern challenges the gay community now faces in a post-DOMA world.
"Harbor," which opens Aug. 6 at 59E59 Theaters in New York, focuses on Ted (Paul Anthony Stewart) and Kevin (Randy Harrison), a newlywed gay couple whose seemingly idyllic life is disrupted when Kevin's estranged sister Donna (Erin Cummings) and 15-year-old niece Lottie (Alexis Molnar) arrive unannounced on the doorstep of their Sag Harbor estate. Kevin and Ted's already uneven relationship is tested when the cash-strapped Donna reveals she is pregnant with her second baby and begins pressuring the couple into raising the child themselves.
"Harbor" is very much a natural fit for Harrison, who played the tormented gay teen Justin on Showtime's "Queer As Folk" from 2000 to 2005 to great acclaim. Stewart, who nabbed an Emmy nod for his 11-year "Guiding Light" tenure, is also a standout in a role he originated during the show's initial 2012 run at Connecticut's Westport Country Playhouse. Still, the new Primary Stages production is anything but a star vehicle, and each member of the four-person ensemble receives his or her transcendent moment as the show reaches a catastrophic, if strangely ambiguous, conclusion.
Check out production photos of Primary Stages' "Harbor" below, then scroll down to keep reading:
PHOTO GALLERY
'Harbor' At Primary Stages
Describing Kevin as "neurotic" and "struggling to find himself," Harrison believes "Harbor" tackles universal themes to which both gay and straight audiences can relate.
"It's really about figuring out what you want out of life and making big decisions in order to pursue those goals," said the 35-year-old actor, whose stage résumé includes a stint in Broadway's "Wicked" and the Off-Broadway smash "Silence! The Musical."
Acknowledging that the show raises significant questions about both gay paternity and same-sex marriage, Beguelin insists he did not intend for "Harbor" to be an "issue play." He says he was inspired to write the show after a discussion with his longtime partner, Tom Sleeman, about raising children of their own.
Still, at least one of the show's cast members encountered some resistance after telling friends and family she'd accepted a role in a gay-themed play.
"I had one family member who immediately responded, 'Gay's in, I'm out,'" Cummings recalled. "The irony is that this play is really about family -- you will find people within that family who will say and do things that are incredibly hurtful, and you have to make a choice to either continue loving them or walk away."
Stewart echoed those sentiments, saying the show deals with "the family that we're born into, the family that we create, the family we leave behind and the family that is thrust upon us. … Every character in this play has a need for some sort of family, for a safe harbor … a person they can feel like they're at home with."
For Harrison, the changing definition of "family," as well as the national push for marriage equality, is having a noticeable impact on the roles he's been offered of late: "This is the second time I'm playing a married [gay] character. I never thought when I was 20 that I'd be playing a married gay man, let alone one who is dealing with the pressure to become a parent."
Currently in previews, Primary Stages' "Harbor" opens Aug. 6 at 59E59 Theaters in New York. Click here for tickets and more information.

CORRECTION: The original version of this article identified Randy Harrison as being 37 years old. He is actually 35.