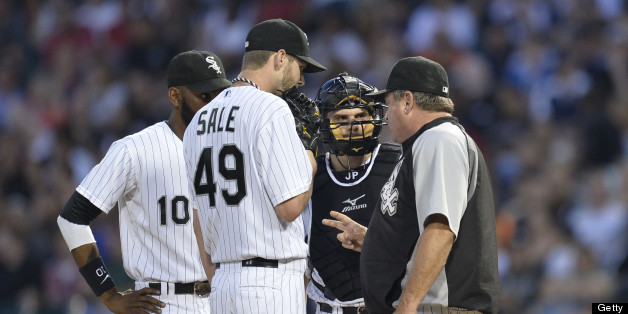 Happy MLB Trade Deadline Day!
At long last, the MLB's trading deadline is nearly here. With the window for non-waiver transactions closing at 4 p.m. EST on Wednesday, July 31st, expect the deals (and the rumors) to keep coming faster than Jacoby Ellsbury down the third-base line. As usual, there are potential buyers (Pirates?), eager sellers (White Sox, Brewers) and teams that seem to be open to a bit of everything (Royals).
On the eve of the deadline, the Red Sox acquired pitcher Jake Peavy from the White Sox in a three-team deal that also included the Tigers. Peavy's sock swap was but one of many deals that was agreed upon leading up to the day of the deadline. This three-team, seven-player swap had a little bit of everything that will define the 2013 non-waiver deadline action.
Buyer: The Red Sox acquired a front line starter to bolster their rotation ahead of a push for a division title.
Seller: The White Sox unloaded Peavy's salary.
Biogenesis Worrier: The Tigers acquired an insurance policy in Jose Iglesias that may come in handy if shortstop Jhonny Peralta is suspended.
With suspensions looming, two Wild Card spots per league and teams always looking to shed salary, the final hours before the deadline could bring plenty of action.

STAY TUNED FOR UPDATES THROUGHOUT DEADLINE DAY 2013:
07/31/2013 4:10 PM EDT
#Mariners made no trades. Held onto Morales, Morse, Ibanez. 2 weeks ago that would have been a shock.

— Joel Sherman (@Joelsherman1) 4 years ago
07/31/2013 4:05 PM EDT
I'm told at least one trade was completed before the deadline. Stay tuned

— Jayson Stark (@jaysonst) 4 years ago
07/31/2013 4:03 PM EDT
Deadline over. Kendrick stays. Downs (for RP Rasmus) & Callaspo (INF Green) are only #Angels moved... And I have chosen chicken enchiladas.

— Alden Gonzalez (@Alden_Gonzalez) 4 years ago
07/31/2013 4:02 PM EDT
The #Cubs are done for the month with no last minute trades

— Bob Nightengale (@BNightengale) 4 years ago
07/31/2013 4:01 PM EDT
Times Up
The trade deadline is here.
07/31/2013 4:01 PM EDT
And ... No deals from the Rangers.

— Jon Morosi (@jonmorosi) 4 years ago
07/31/2013 4:00 PM EDT
Definitely no trade by #Mets before deadline

— Joel Sherman (@Joelsherman1) 4 years ago
07/31/2013 3:58 PM EDT
Nothing doing with #Rangers. Confirming report by @TBrownYahoo.

— Ken Rosenthal (@Ken_Rosenthal) 3 years ago
07/31/2013 3:57 PM EDT
BREAKING: #Cubs and #StLCardinals discussing deal for catcher Navarro minutes before deadline Voices | Voices http://t.co/p5HD6e4i8h

— Chris De Luca (@ChrisDeLuca) 5 years ago
07/31/2013 3:57 PM EDT
Also hearing that #Yankees have nothing of consequence in works.

— Ken Rosenthal (@Ken_Rosenthal) 3 years ago