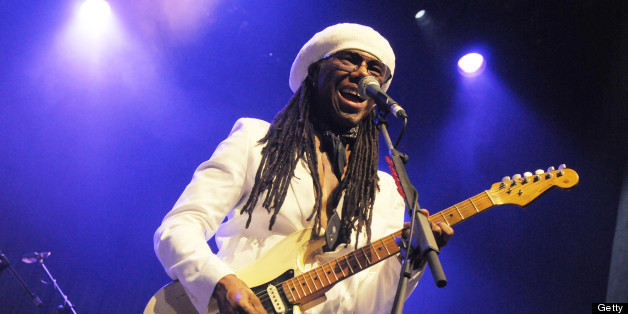 The following article is provided by Rolling Stone.
By RJ Cubarrubia
Nile Rodgers got some good news from his doctor earlier this week. The Chic guitarist and Daft Punk collaborator was given the all-clear in his fight against prostate cancer, which he was diagnosed with in 2010.
LINK: In Photos: Nile Rodgers: C'est Chic
"Instead of showing gross internal video I'll show my doctor's fly examination room. I'M ALL CLEAR AGAIN!" Rodgers tweeted. Still, he was measured in his relief. "I never celebrate much when I get an all-clear because in six months I'll go through the same drama," Rodgers tweeted. "[But] All-clear is a lot better than the cancer has returned and it's spread."
LINK: Rolling Stone's List of the 25 Greatest Rock Memoirs Of All Time: 'Le Freak'
Rodgers has credited "Get Lucky," his recent hit with Daft Punk and Pharrell Williams, as a driving force behind his recovery. "I was facing life and death issues and then to get something so rewarding as a Number One record is pretty amazing," Rodgers told Britain's Official Charts Company in May. "I think this particular experience rates very high, because two years ago I was stricken with cancer just right out of the clear blue sky. I had no indication it was coming on, I was what is called asymptomatic and when they found it, it was diagnosed as incredibly aggressive. So I went from having no symptoms to 'you can die any moment and you have to take this very seriously.'"
LINK: Rolling Stone's List of the 100 Greatest Guitarists
He continued, "From that moment I decided I was going to work as much as I could, play as many concerts, do as many records, because that's what I live for. I said to myself, if I had a reason to get up the next day, hopefully I'll get up the next day because I just love to do my job."
LINK: Rolling Stone's List of the 30 Greatest EDM Albums of All Time
LINK: Rolling Stone's List of the Best Summer Songs Of All Time: 'Good Times,' Chic
PHOTO GALLERY
Daft Punk Frenzy
BEFORE YOU GO