Presidents' summer homes, as you may expect, are not like yours and mine. The country's chief executives aren't generally chipping in for beach house shares, or holing up with the family in un-air conditioned cabins at mosquitoey lakes -- though, really, both those options actually sound pretty nice this time of year.
But not as nice as these.
John F. Kennedy, Hammersmith Farm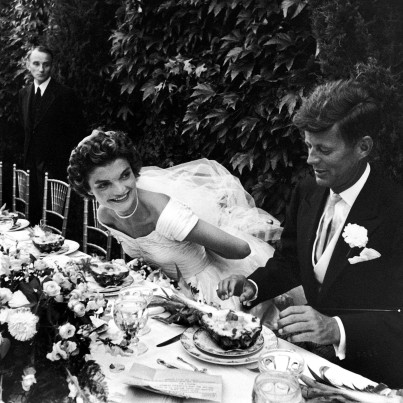 Credit: Getty Images
Jack and Jackie got married at this Newport mansion, and 48 acre property, which is also Jackie's childhood home (and reportedly the site of a small pet cemetery).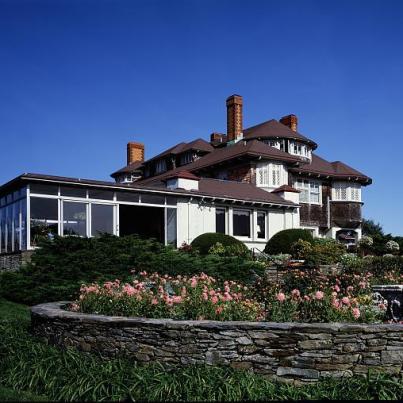 Credit: Library of Congress
Parts of the old Hammersmith Farm property now are used by a group devoted to the preservation of semen and embryos of -- from the website -- "rare and endangered breeds of food and fiber livestock." These facilities are open to the public in June "for a tour of the grounds and to educate the public about endangered breeds and cryo-preservation."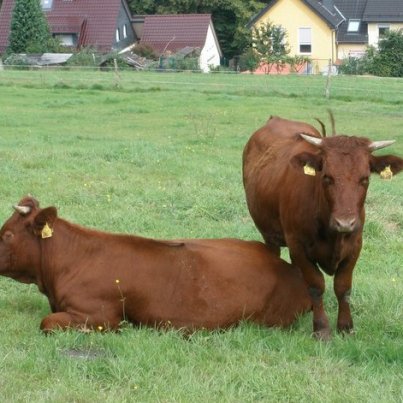 Credit: SVF Foundation via Facebook
Abraham Lincoln, President Lincoln's Cottage
Abraham Lincoln spent his Washington summers a few miles north of the White House. From 1862-1864, his summer White House -- as presidents' summer homes tend to be known -- kept him away from the heat of Civil War Washington, and allowed some space to grieve a dead son.
Lincoln, who would sometimes read Shakespeare out loud to visitors, drafted the Emancipation Proclamation at Lincoln's Cottage, as the 34-room Gothic Revival home, built in 1842, is now called.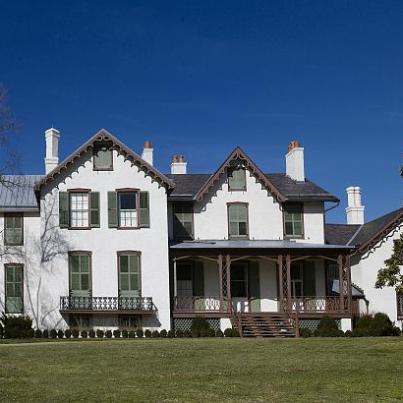 Credit: President Lincoln's Cottage via Facebook
And on his daily commute -- early, after eating toast and eggs -- from the house through the streets of D.C. to the White House, he had some notable encounters, like with the poet Walt Whitman, who wrote:
I see the President almost every day, as I happen to live where he passes to or from his lodgings out of town. He never sleeps at the White House during the hot season, but has quarters at a healthy location some three miles north of the city, the Soldier's Home, a United States military establishment. I saw him this morning about 8:30, coming in to business, riding on Vermont Avenue, near L Street. He always has a company of twenty-five or thirty cavalry, with sabers drawn and held upright over their shoulders. They say this guard was against his personal wish, but he lets his counselors have their way. The party makes no great show in uniform or horses. Mr. Lincoln on the saddle generally rides a good-sized, easy-going gray horse, is dressed in plain black, somewhat rusty and dusty, wears a black stiff hat, and looks about as ordinary in attire, etc., as the commonest man.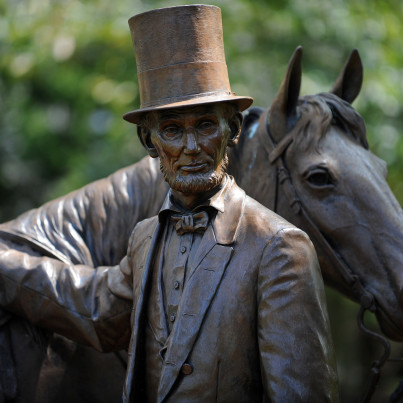 A life-sized statute of Lincoln with his horse, at Lincoln's Cottage. Credit: Getty Images
Lincoln also faced less friendly encounters. In August 1864, he survived a sniper's attack as he was traveling alone, on horseback, back to the cottage. (His hat was not so lucky; it reportedly was shot through.) The last time Lincoln visited the home was the day before his assassination.
Richard Nixon, La Casa Pacifica
One of Richard Nixon's summer homes was a 10-room California villa -- dubbed the Western White House and La Casa Pacifica -- a spacious and private estate in San Clemente where the beleaguered, beleaguering chief executive could get away from Washington, and host foreign leaders.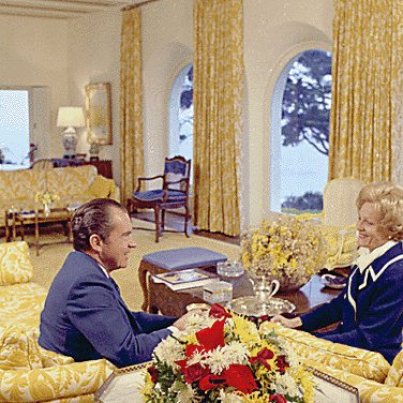 Pat and Richard Nixon in the living room of their San Clemente home. Credit: Richard Nixon Library
Boosters built Nixon a golf course on the property. Taxpayers footed the bill for other improvements, said to be necessary when staff came for long working holidays, though some members of Congress later passed a resolution suggesting the disgraced leader should possibly provide some reimbursement.
Rutherford B. Hayes, Spiegel Grove
This one's not so much odd or extravagant, as it is touching -- assuming you are the kind of person who feels emotional about a president being buried near his spouse and favorite horse.
The 19th president retired to this Ohio home, built as his summer house, in 1881, at the end of his first and only term. Post-presidential improvements included indoor plumbing and a cupola used as an indoor greenhouse. Credit: AP
Hayes died at the house in 1893. He, his wife Lucy Webb Hayes -- known as "Lemonade Lucy" for her teetotaling ways -- and his beloved Civil War horse Old Whitey are buried on the property.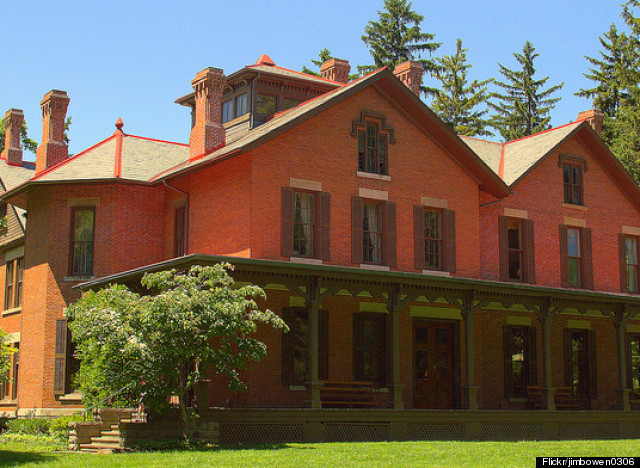 Flickr photo by jimbowen0306, used under a Creative Commons license.
William McKinley, Hotel Champlain
Hotel Champlain first opened in 1890, just outside the New York town of Plattsburgh. The book Past and Present of Plattsburgh: Romantic History of a Prosperous Village has a lovely (dare we say romantic?) description of the tony hotel:
The scenery is magnificent. The hotel is 400 feet long, seventy-five feet wide and has three towers, the top of the central tower being 125 feet from the ground. The hotel is fitted with all modern conveniences and is a delightful summer-resort.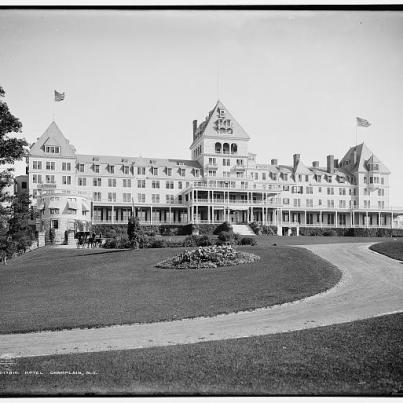 Credit: Library of Congress
"Oh, how beautiful everything is," McKinley's wife, Ida Saxton McKinley, reportedly exclaimed upon arrival during one of the summers she and the president spent at this hotel, where McKinley brought along staffers who kept regular work hours during their visit. Credit: AP
McKinley and his ill wife spent two summers there -- 1897 and 1899 -- partly, according to some sources, to enjoy what was said to be restorative effects of the hotel's water. Was that wise? A document provided to the Assembly of New York had rather unflattering things to say about that water, vis-a-vis a typhoid outbreak, mostly amongst hotel staff.
The hotel became a training ground for Jesuit priests in 1951. Today, it houses a community college.
Thomas Jefferson's Poplar Forest
"When finished it will be the best dwelling house in the state, except that of Monticello," Thomas Jefferson said of Poplar Forest, the Virginia house he designed and started building in 1806. Credit: AP
The home -- a place for the third president to retreat from society, all too present at his primary residence, the afore-mentioned Monticello -- is said to be the first octagonal house in the United States.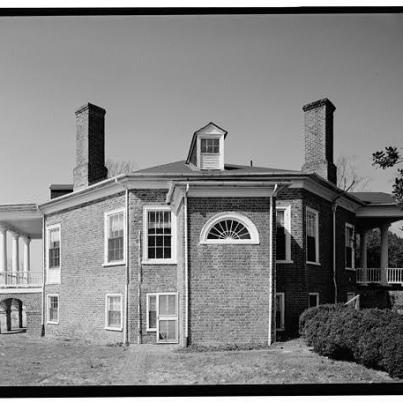 Credit: Library of Congress
Jefferson had as many as 94 slaves on the plantation. By some accounts, Poplar Forest is haunted by the ghosts of Jefferson and Sally Hemings, a slave who is thought to have given birth to six of Jefferson's children, and whose brother John helped build the house.
George W. Bush, Prairie Chapel Ranch
We close with 43's Crawford, Texas property, which is notable as much for its size, about 1,600 acres, as for the amount of time Bush spent there during his two terms, about 500 days.
You could see why Bush would want to stay in his Western White House, where he -- like the other presidents -- hosted foreign dignitaries, and unlike the other presidents faced a long-term resident protester, anti-war activist Cindy Sheehan. In a laudatory 2002 story, the magazine Cowboys and Indians wrote that "The Texas Town of Crawford is about as far from Washington D.C., as a Man could Hope to Get."
The piece goes on to talk about Bush's love of running the ranch's many trails, driving his pickup and clearing foliage by himself. Bush's casual ranch attire of "short-sleeved shirts and jeans" also gets a mention.

Credit: Getty Images
There were those who averred that the energy-efficient Crawford ranch was just for show, and after Bush left office, speculation began about when he'd sell.
While W seems not as fond of brush-clearing and pickup-driving as he was while holding office -- he's in Dallas most of the time now and this year sold his truck for $300,000 -- he does still own the ranch.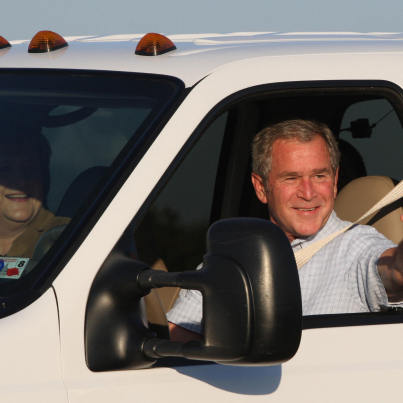 Credit: Getty Images
And, if skywatchers are to be believed sometimes notable visitors still drop by -- now coming by UFO, though, not limousine.
See more photos of presidents on vacation here:
PHOTO GALLERY
Presidents On Vacation
And here are presidents' most treasured companions -- their pets:
PHOTO GALLERY
Presidential Pets