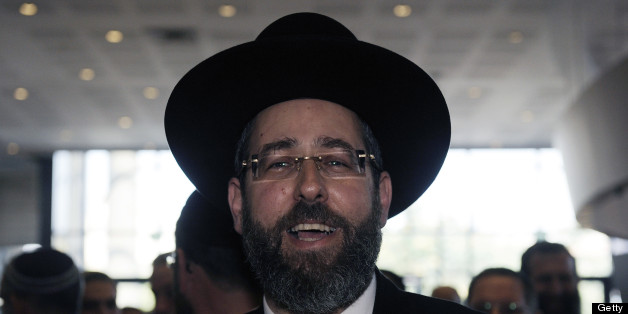 The newly elected Ashkenazi Chief Rabbi -- one of the two men who serve as spiritual authorities for the people of Israel -- is already under fire for making an apparently racist remark, several Israeli news outlets are reporting.
David Lau was addressing a group of ultra-orthodox yeshiva students when he made reference to young people who are observed watching basketball on television in public rather than spending time studying the Torah. His argument was meant to illustrate the point that such a display could undermine the case for youths not being drafted into the Israeli Defense Forces. But according to Israeli news outlet Hareetz, Lau went on to use a racial slur to describe some professional basketball players.
"Why do you care whether these [k]ushim [a derogatory Hebrew term for black people] who are paid in Tel Aviv beat the kushim who are paid in Greece?"
The comment quickly drew the ire of some members of the Israeli parliament. Nachman Shai, a representative of the Labor party, called for Lau to apologize and told the Jerusalem Post that the comment stands in unfortunate contrast to the relatively liberal remarks Pope Francis made earlier this week in reference to not judging gays.
But Naftali Bennett, a minister of religious services and economics, reportedly came to Lau's defense, telling the Post that the media shouldn't be stalking public figures and looking for harmful statements.
Basketball is a strong source of pride for many Israelis: President Shimon Peres recently invited Amare Stoudemire of the New York Knicks to play for Israel's national team. However, Tablet Magazine notes that Lau's controversial comment isn't the first ugly incident to publicly surface regarding the treatment of professional basketball players in Israel.
Pini Gershon, a former coach for Maccabi Tel Aviv, was caught on camera in 2000 saying he could tell the difference between the intelligence levels of his players by the color of their skin.
BEFORE YOU GO
PHOTO GALLERY
Top Religious Athletes