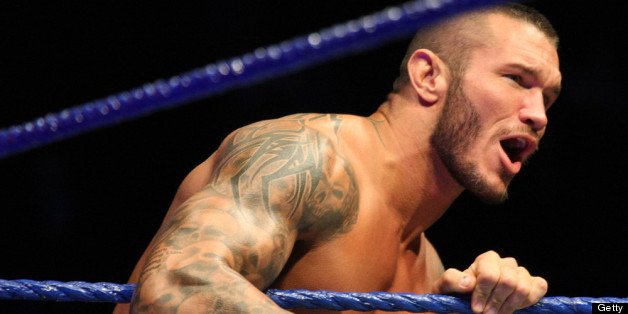 World Wrestling Entertainment star Randy Orton was attacked by a fan after a match in South Africa -- and it wasn't part of any schtick.
The incident happened Tuesday at a SmackDown event in Cape Town. A video of the incident shows Orton standing on the ropes, facing the crowd when a a fan sneaks into the ring, walks up to Orton and punches him between the legs. The famous wrestler falls down on the mat as security rushes into the ring to grab the offender.
SCROLL FOR VIDEO
TMZ reported that the man -- who might be responsible for the "first ever genuine WWE injury" -- was later arrested and placed in police custody. Doctors were allegedly sent to check out Orton.
The WWE's official website posted a statement Tuesday about the attack:
WWE.com has learned that Randy Orton was violently attacked by an audience member during a SmackDown World Tour Live Event in Cape Town, South Africa, yesterday evening. Footage of the attack was captured by a WWE fan and posted to YouTube, and shows the perpetrator striking Orton from behind. The matter is currently under investigation by the local authorities, and the South African fan is being held in jail pending criminal charges. The extent of Orton's injuries are unknown at this time.
There was reportedly supposed to be a meet-and-greet between the attendees and wrestlers after the show, but that was cancelled, according to Wrestle Zone. Fellow superstar Big E Langston tweeted, "That's not exactly what we mean by 'intimate fan experience.' #WWECapeTown."
The sucker punch might have been a blow to Orton, but the 33-year-old recently had a personal victory in his divorce settlement with ex-wife Samantha Speno. In the agreement, he retained multiple six-figure bank accounts, cars, his gun collection, jewelry and one of their houses. He also kept all rights, title and interest in his WWE contract.
WATCH: