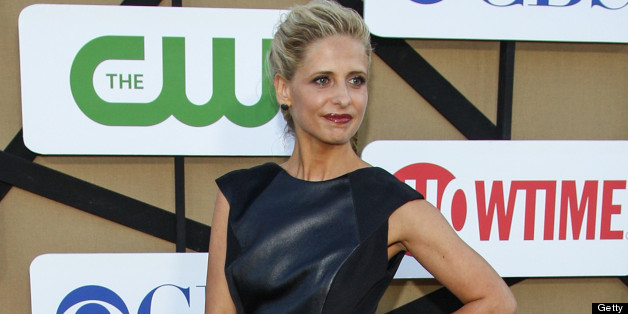 Ten years have passed since "Buffy the Vampire Slayer" went off the air and fans are still hoping for more.
Sarah Michelle Gellar weighed in, saying a "Buffy" movie could be a possibility, but only if the right story came along. "My joke is, at this point, the stake would be my walker and I would be hobbling in," Gellar, 36, joked with E! News during a recent interview.
"Joss [Whedon, who created 'Buffy'] and I always talk about [a movie]," she continued. "But the thing with 'Buffy' is that <'Buffy' was a movie, and it ultimately didn't work as a film. And we had such miles to overcome when we were trying to do a TV show based on a movie. And one of the reasons, I think, is that the story works better over time ... If there was ever the right story to tell, we would certainly do it. But I think there is also a great fear in that, and rightfully so."
The original "Buffy" was a 1992 film starring Kristy Swanson and Luke Perry about a teenage cheerleader from the Valley who finds out she is The Chosen One to hunt vampires. According to Box Office Mojo, it grossed a meager $4 million its opening weekend and went on to rake in just $16 million domestically.
The television series premiered five years later. And love for Buffy Summers has lived on.
"It's kind of wonderful," Gellar told The Huffington Post in May, looking back on the show in honor of its finale's 10th anniversary. "I'm incredibly proud of that show -- proud of everybody on it, of what we did ... You can't be prouder of that show. It still holds up in reruns and I'm blessed every day ... I've been pretty lucky."
Diehard TV buffs have shown enduring faith in the silver-screen potential of certain series. Take "Veronica Mars" fans, who supported the Kickstarter campaign for a movie so much so that it surpassed the goal of $2 million to reach $5.7 million.
Would you want to see a "Buffy" movie? Sound off in the comments!
PHOTO GALLERY
10 Things We'll Always Love About 'Buffy'