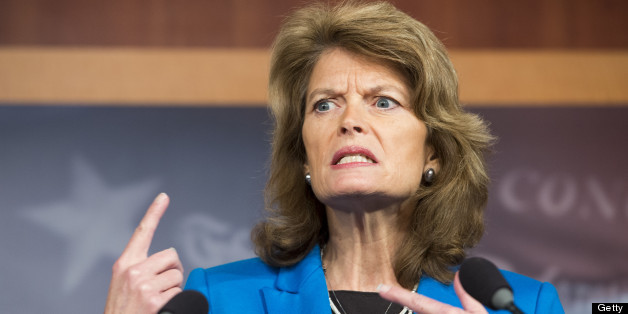 WASHINGTON -- The carefully crafted deal to avoid the so-called nuclear option against the Senate filibuster nearly crumbled Wednesday over President Barack Obama's nominee to head the Bureau of Alcohol, Tobacco, Firearms and Explosives.
The approval of B. Todd Jones to head the ATF hinged on the vote of Sen. Lisa Murkowski (R-Alaska), who at first voted no on a procedural question but then switched after an intense hour of heated discussion on the Senate floor.
Murkowski was one of six Republicans who agreed earlier this month not to filibuster seven of the president's nominees, heading off a threat from Senate Majority Leader Harry Reid (D-Nev.) to change Senate rules if the GOP insisted on blocking Obama's agency picks. That nuclear option involved using procedural tactics to rewrite the rules with a simple majority.
The Alaska senator later issued a statement saying that her initial opposition to the ATF nominee stemmed from a whistle-blower complaint filed against Jones, who is the U.S. attorney for Minnesota as well as acting head of the ATF, by an assistant U.S. attorney.
"When I initially voted against cloture, it was based on my understanding that the nominee was the subject of an investigation, because I believe that it is common sense to not confirm someone who is the subject of an active investigation," Murkowski said. "During the vote, I was informed by colleagues that the investigation phase has concluded and a mediation process has been initiated to resolve this issue. Based on this new information, I voted to proceed to a yes or no vote on which I will cast my vote against Mr. Jones."
Other Republicans, including Senate Minority Leader Mitch McConnell (R-Ky.), have charged that Jones was somehow culpable in covering up the Operation Fast and Furious gun-walking scandal. When U.S. Border Patrol Agent Brian Terry was killed in December 2010, guns that the ATF had allowed to be trafficked into Mexico, in theory to track them back to drug cartels, were found at the scene. Jones took over the ATF in 2011.
After the vote, Sen. John McCain (R-Ariz.), who helped broker the filibuster deal, said simply, "Senator Murkowski thought over the whole situation and made her decision."
McCain allowed that the near-failure of Jones' nomination showed how shaky that agreement remains.
"I've always believed it was fragile, don't get me wrong. I never believed it was anything but fragile," McCain said. "I didn't expect this to be a perfect agreement that we made. It's like the agreement we made on judges [in 2005], and it's like the agreement we made on moving forward with legislation earlier this year with Senator [Carl] Levin and others."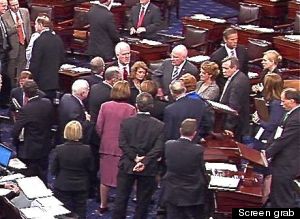 Murkowski was surrounded by more than a dozen of her colleagues at one point after she cast her original vote opposing Jones, and their raised voices could be heard from the Senate press gallery.
Among those in the unusual huddle was Sen. Susan Collins (R-Maine). "Lisa's just a friend of mine, and we had a nice little chat," Collins said afterward. "I was concerned that she was being pummeled by both sides and she might need a little break."
Indeed, one person familiar with the showdown thought that Murkowski might have been convinced to vote no on her way to the floor, only to find McCain, Reid, Sen. Chuck Schumer (D-N.Y.) and others reminding her of the agreement they reached and the fact that filibustering Jones could blow up the entire deal.
"That issue was raised," said Sen. Amy Klobuchar (D-Minn.).
The vote that garnered so much attention was to end debate on the Jones nomination, which requires 60 votes. Even with Murkowski's aye, Jones was one vote short, with Sen. Heidi Heitkamp (D-N.D.) unexpectedly away. The count was being held open until later Wednesday evening for her return.
Murkowski can back away from Jones again when the Senate votes directly on his confirmation, but that requires only a simple majority for passage.
The Jones vote was the first serious test of the spirit of the agreement on presidential appointees, coming just one day after the Senate confirmed the last of the nominees -- members of the National Labor Relations Board -- specifically named in the filibuster deal. And it suggested the GOP remains poised to interfere with Obama's choices.
"We always knew that this would be a tough one," said Schumer, echoing McCain's estimate of the tenuous nature of the agreement going forward.
Reid has made a point, however, of leaving the threat of the nuclear option on the table should Republicans begin obstructing nominees again.
UPDATE: 7:52 p.m. -- Sen. Heitkamp later cast her vote to move the Jones nomination toward a final vote, ending the filibuster 60 to 40. The nomination passed the Senate soon after by a vote of 53 to 42.

BEFORE YOU GO
PHOTO GALLERY
Women In The U.S. Senate