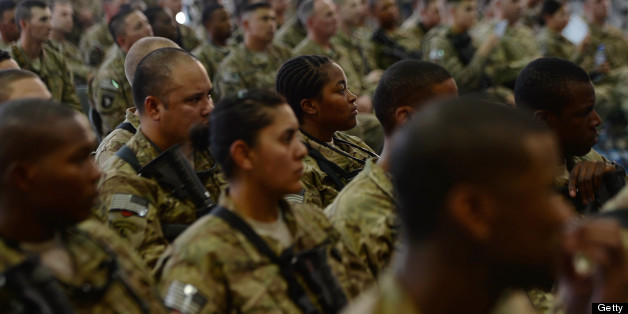 The United States and Afghanistan have reportedly moved closer to a bilateral agreement that spells out the presence of American forces in the country after 2014.
USA Today reports the two sides have "resolved most issues" and that the agreement will allow for "a limited U.S. counterterrorism force and military advisers."
"We're at the point now where we concluded the text," a senior State Department official familiar with the negotiations said on condition of anonymity. "We're in a period of endgame."
Most American forces are set to leave Afghanistan in 2014, nearly 13 years after the start of the war. Washington and Kabul signed a Strategic Partnership Agreement last year, stipulating the principles that would guide relations between both countries after 2014. However, both countries have clashed over the details of the agreement that were left to work out.
According to the USA Today report, Afghan leaders have now agreed to allow the U.S. to "maintain legal jurisdiction over its troops in Afghanistan," a sticking point Washington previously said is non-negotiable.
The agreement reportedly also states that American troops will be tasked with assisting Afghan forces and building a counterterrorism force to fight al-Qaeda and related groups.
Even so, it is unclear whether the final agreement receive approval by Afghan President Hamid Karzai, whose relationship with Washington has become increasingly tense. The USA Today report explains the State Department could not make such guarantees in the present agreement, but has been working with Afghan officials to quell any possible objections.
Army Gen. Martin E. Dempsey, Chairman of the Joint Chiefs of Staff, told reporters earlier this month that he believed Karzai and the U.S. would be able to come to an agreement before October 2013.
"I can tell you with great candor and integrity that the conversation today with the president was very positive, and I left convinced that he is as committed as we are to moving ahead with this bilateral security agreement as soon as possible," Dempsey said in the wake of a meeting with Karzai, according to the Department of Defense.
Washington has not announced yet announced how many troops it plans to keep in the country.
On Monday, Gen. Joseph F. Dunford, Jr, the current commander of the International Security Assistance Force and U.S. Forces Afghanistan, told The New York Times that while "the actual fighting on a day-to-day basis will all be done by Afghans" after 2014, he believed U.S. forces will remain a necessary component for the country's stability.
"Afghan forces, at the end of 2014, won't be completely independent," Dunford said. "Our presence post-2014 is necessary for the gains we have made to date to be sustainable."
BEFORE YOU GO
PHOTO GALLERY
Recent Violence In Afghanistan (Warning: Graphic Images)