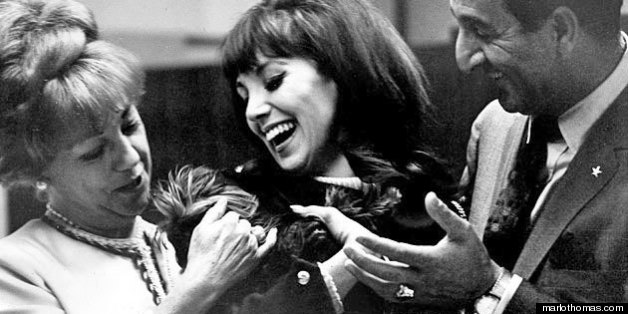 When I was just starting out as an actress, one of my first big jobs was the lead in the London production of "Barefoot in the Park." It was a life-changing experience on many levels, and it was during that time that I made one of the best friends I'll ever have. His name was Knichi, he was an adorable three-pound Yorkshire Terrier, and he went everywhere with me including the theatre. He was so smart. He figured out that when he heard the applause, the act was over and I'd soon be returning to the dressing room. So he'd sit on my dressing table stool and the minute her heard the audience clapping he'd run to the door and wait for me.
Many years later, after Phil and I got married, we got a beautiful golden retriever that we named Huey. Then came Louie, and then came Dewey. Though many people couldn't tell them apart, each one had a completely unique personality. Hughie was the oldest, and he followed Phil everywhere. (I think he believed he was Phil's bodyguard). Louie went on the road with me for a national tour of "Six Degrees of Separation" and quickly became "the company dog." Everyone in the cast and on the crew missed their pets, so they were thrilled I had him with me and they would all take turns walking him. And when we moved from city to city, instead of having to crate Louie, the guys would take him on the prop truck. It was so funny to see him sitting in the front seat next to the driver. And Dewey was just like a loyal kid brother to the other two. He outlived both of them, and you could see how sad he was. I think he died early because he missed them so much. What a great threesome they were –beautiful, loving and very funny.
PHOTO GALLERY
Marlo and Her Pets
Of course, I know that I'm not alone in thinking that my beautiful dogs were the most extraordinary and wonderful pets anyone could ever have. Most pet owners fall hopelessly in love with their furry, feathery or finny friends, and come to believe that their pet is really something special. And they're right.
All animals are special and they teach us about caring and love. And whether your pet is a dog, a cat, a parrot or a turtle, when you look into their eyes you know you've got a friend.
We asked some of you to tell us what makes your pet the best, and we got some really fun responses. Take a look.

BEFORE YOU GO