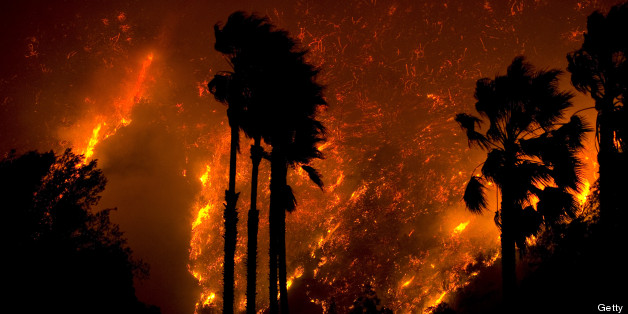 Californians, apparently feeling better about the state's economic prospects, believe more strongly than ever that their state government should act immediately to combat climate change by reducing greenhouse-gas emissions.
That was among the findings of a poll conducted by the nonpartisan Public Policy Institute of California, which surveys state residents each year on a range of environmental issues.
Nearly two-thirds of Californians, or 65 percent, said the state should "take action right away" rather than wait until the economy improves. That was 9 percentage points higher than last year and the highest level since pollsters began asking the question in 2008.
"If we look at what's changed over time, it's attitudes about the economy," pollster Mark Baldassare said. "There's more confidence going forward."
The poll surveyed 2,103 residents in landline and cellphone interviews conducted July 9-23. It has a margin of error of plus or minus 3 percent.
The percentage of those who desire action nearly matches the percentage of Californians (63 percent) who believe the effects of global warming already have begun. Also, 22 percent believe the effects will manifest in the future, while 11 percent believe there will never be any effects.
More than three-quarters of respondents said they consider global warming a very or somewhat serious threat to California's future economy and quality of life. Among a list of potential threats, most cited concerns about wildfires that are more severe.
On other environmental issues, a slight majority, or 51 percent, said they oppose increased use of hydraulic fracturing, commonly known as fracking, the oil-drilling process in which a mixture of water, sand and chemicals is injected at high pressure into wells as a means to create fractures in subsurface rocks. Only 35 percent said they favor increased use.
In addition, 50 percent of adults, including 62 percent of those who said they support its increased use, favor stricter regulations on fracking.
Those findings come as the state appears poised for a resurgence of oil drilling as energy companies search for techniques that will allow them to tap the Monterey Shale formation, said to be the largest source of shale petroleum reserves in the nation.
One technique is expected to be the increased use of fracking. The state has no existing regulations on the practice, and efforts are underway both administratively and in the Legislature to adopt rules to require disclosure of chemicals used in the process, advance notification and before-and-after testing of groundwater to detect possible contamination.
Californians feel differently about another major oil-related issue, the construction of the controversial Keystone pipeline to transport Canadian oil supplies to refineries in Texas. A slight majority, or 51 percent, of Californians support construction of the pipeline, with 34 percent opposed.
Consistent with findings from last year, Californians remain opposed to both additional oil drilling off the coast and construction of nuclear power plants.
As recently as 2009, state residents were closely divided on those issues, and in fact a slight majority had emerged in support of offshore oil drilling. But support for offshore oil plummeted after the Deepwater Horizon oil spill in 2010, as did support for nuclear power plants after a nuclear plant in Japan was the site of a meltdown after a 2011 earthquake and tsunami.
The poll also measured public approval ratings for Gov. Jerry Brown and President Barack Obama.
Support for Brown among likely voters reached its highest level since his election three years ago, at 54 percent.
Obama received 54 percent approval among registered voters, down from 58 percent in May but up from 53 percent a year earlier. ___
BEFORE YOU GO
PHOTO GALLERY
Most Vulnerable Nations to Seafood Security Threats from Ocean Acidification