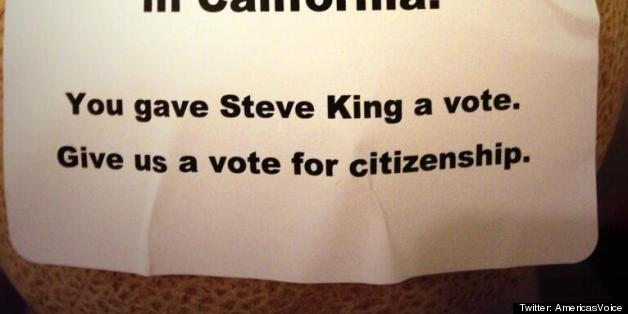 WASHINGTON -- Immigration advocates delivered a juicy surprise to House lawmakers on Thursday morning.
Members from pro-immigration reform groups United Farm Workers, United We Dream and America's Voice sent cantaloupes to the 224 representatives who voted for an amendment two months ago offered by Rep. Steve King (R-Iowa). The amendment, which passed the House 224-201, would end the Department of Homeland Security's discretion in delaying low-priority deportations, effectively forcing the government to expel young, undocumented immigrants from the country.
Attached to the cantaloupes were the messages, "This cantaloupe was picked by immigrants in California," and "You gave Steve King a vote. Give us a vote for citizenship."
The cantaloupes were a reference to recent remarks by King, in which he claimed that young, undocumented immigrants, known as Dreamers, had "calves the size of cantaloupes" from hauling large quantities of marijuana across the border. King has defended his claim multiple times since.
The immigration groups are advocating for a path to citizenship for the entire undocumented community, not solely Dreamers.
The fruit was harvested by California immigrants, as "proof of the hard work of hundreds of thousands ... who labor under harsh weather conditions," said Giev Kashkooli, United Farm Workers national vice president, in a press release. "Agriculture in the United States is dependent on a hard working, dedicated, tax-paying immigrant work force."
Earlier this month, Dreamers delivered two cantaloupes to King, calling for an apology and for House Speaker John Boehner (R-Ohio) to remove him from the House Judiciary Committee, which handles immigration policy.
Online petitions to remove King from the immigration seat had garnered more than 100,000 signatures as of late July.
America's Voice recorded some of the representatives' reactions from Thursday's cantaloupe drop on Twitter:
@JimGerlach refused our cantaloupe, wah wah WE WANT A VOTE ON CITIZENSHIP #p2cantaloupes #immigration pic.twitter.com/BQhqO4Ogk4

— Pili Tobar (@pilitobar87) August 1, 2013
Rep. Gowdy abandoned this cantaloupe in the hallway rather than accept our gift #p2cantaloupes pic.twitter.com/R4Vg7YcdNq

— americasvoice (@americasvoice) August 1, 2013
Delivering a cantaloupe to @johnboehner (his office was very nice!) #p2cantaloupes pic.twitter.com/swfUSQ0hB4

— americasvoice (@americasvoice) August 1, 2013
BEFORE YOU GO
PHOTO GALLERY
DREAMers Taking A Stand