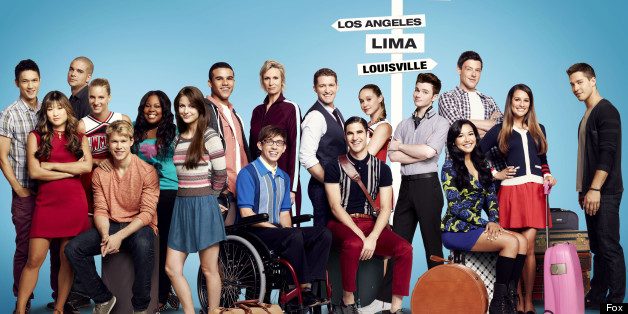 "Glee" will likely end after Season 6.
Fox's president of entertainment Kevin Reilly told reporters the series will likely end following the sixth season. When Fox ordered a Season 5 of the musical dramedy in May 2013, it also gave the greenlight for Season 6.
"I would not anticipate it goes on," Reilly said, according to Give Me My Remote, when asked about the future of "Glee." "Never say never, but there's two very clear arcs to get to there and conclude. If we discover a new crop of kids and there's some breakout, who knows. But right now, it's being treated as two seasons [and then done]."
The Huffington Post's request for comment from Fox confirming the plans was not immediately returned.
"Glee" was dealt a blow in early July when leading man Cory Monteith was found dead in his hotel room. Fox pushed back the premiere of "Glee" Season 5 by a week to Thursday, Sept. 26
Reilly revealed that the first two episodes of the season will be Beatles-themed and the third episode will tackle the fate of Monteith's character Finn Hudson.
"The third episode will deal with the Finn Hudson character being written out of the show," Reilly said. "That episode will deal directly with the incidents surrounding his death and drug addiction ... Ryan Murphy is going to film PSAs with the cast, as cast members, as friends of his, they're going to speak directly to the audience [about Cory] ..."
"Glee" co-creator Ryan Murphy said he considered ending the series following Monteith's death, but series star and Monteith's real-life girlfriend Lea Michele made the decision to go on.
"If Lea had said to me, 'I could never do this again and I don't want to do this again,' you know, she is sort of the show, so what do you do? And I would've, out of respect to her as a person, said 'OK,' but that's not how Lea operates; that's not how she feels," Murphy told E! Online at the end of July. "She's handled this with so much humanity and grace and she's also handled this in a way where she's trying to look out for 500 other people affected by him and who have mortgages to pay and families to feed. That was never on the table for her and I said, 'OK.' Nothing has been done and will be done in terms of any of the material without Lea blessing it and making sure it's OK with her -- and she has been."
"Glee" Season 5 premieres Thursday, Sept. 26 at 9 p.m. ET on Fox.
PHOTO GALLERY
Glee Episode Stills