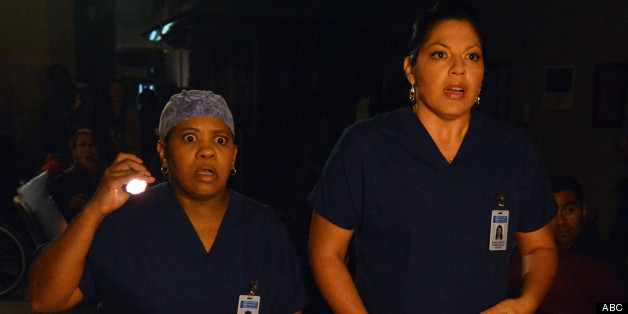 The "Grey's Anatomy" Season 10 premiere is just under two months away, but new details have emerged that will give fans some clues about what they'll see when the ABC medical drama returns.
TVLine reports that the "Grey's Anatomy" Season 10 premiere will be called "Seal Our Fate," which is quite ominous when looking at the end of Season 9 and what we know about the upcoming season.
Richard Webber (James Pickens Jr.) was last seen unconscious in the Season 9 finale, laying on the floor of the flooded basement of Grey Sloan Memorial, electrocuted after the power came back on in the wake of the storm that hovered over the season's final two episodes.
"Hopefully that's not going to happen, but we don't know," Kevin McKidd (Dr. Owen Hunt) told TV Guide in May of Richard's possible death. "If there's a chance to save Richard, you're going to have every doctor at Grey Sloan Memorial clamoring over each other to get in that OR to save him."
Though "Grey's" creator Shonda Rhimes wouldn't say whether or not he's dead when Sseason 10 premieres, she did cryptically tell Entertainment Weekly that we "will see Jim Pickens again."
As for Meredith Grey (Ellen Pompeo), it may have seemed like she was in the clear after the birth of her son Bailey, but Dan Bucatinksy, a "Scandal" star and "Grey's" writer, told TVLine, "She had a rough birth. We're going to see them in the hospital together and juggling their roles in a major way."
When cameras first started rolling on the "Grey's" Season 10 premiere, Pompeo herself tweeted that the first episode would make audiences laugh and cry. "We're gonna take you places. I promise," she noted.
The "Grey's" Season 10 premiere will also see three new faces: Veteran actress Veronica Cartwright will appear as will Bobby Campo, from Syfy's "Being Human" and Showtime's upcoming "Masters of Sex," and "Hellcats" alum Heather Hemmens. The latter two will play an engaged couple -- Campo will guest star as a fireman named Brian, and Hemmens will play a police officer named Sasha, both of whom are involved in a disaster in the premiere.
Do you think one of our favorite doctors will meet his/her death in the "Grey's Anatomy" Season 10 premiere? Sound off in the comments!
"Grey's Anatomy" Season 10 premieres Thursday, September 26 at 9 p.m. ET with a two-hour episode.
PHOTO GALLERY
Fall TV 2013 In Production