 Before Prince George Alexander Louis was even born, there was discussion and debate around his mother's decision whether or not to breastfeed. Now, it appears we have the first clue that the Duchess might be nursing.
Kate Middleton was photographed last week wearing the "Blossom Knot Front Lavender Dress" from Seraphine; the garment provides easy breastfeeding access post-birth, according to their website. And of course, the dress is now on backorder until September.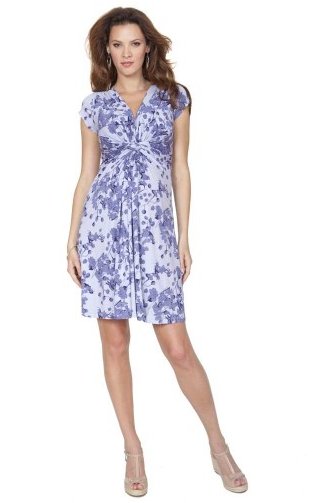 Back in June, while the duchess was still pregnant, British TV and radio presenter, Beverley Turner, wrote an op-ed for the Telegraph explaining how Middleton's decision to nurse could benefit the whole of England. Breastfeeding rates in the U.K. have dropped for the first time in a decade and Turner attributes the downfall in part to "cultural forces" surrounding the practice. "It's not cool; it's not sexy," she writes. "What we really need is The Duchess of Cambridge to get her Royal orbs out to feed our future monarch. And to be applauded – not seethed at – for doing so," Turner concludes.
The piece sparked debate about whether Kate should be pressured to nurse in public for that reason, or if the choice should be a personal one. Here in the U.S. where celebrities are often open about breastfeeding (see the slideshow below), rates have increased over the years. "If we're seeing our role models and our iconic images positively breastfeeding, that absolutely will have a positive impact on breastfeeding," Leigh Anne O'connor, La Leche Legue leader, told Good Morning America.
During the same GMA segment, mom and HuffPost blogger, Heather Spohr, explained why society should not be putting so much pressure on the Duchess to nurse. Spohr tried to breastfeed her own kids, but was unsuccessful, which made her feel like she wasn't "cut out" for motherhood. And so, "the choices that she and Prince William make for their child are theirs alone and they don't have to be the poster child for breastfeeding, or formula feeding for that matter," she said.
In celebration of World Breastfeeding Week, HuffPost Parents is participating in "I Support You," an initiative to to collect photos and messages, from mothers to each other, that say we might lead different lives but we share wanting the best for our children in common. Find out more here.
BEFORE YOU GO
PHOTO GALLERY
Memorable Breastfeeding Moments In Hollywood