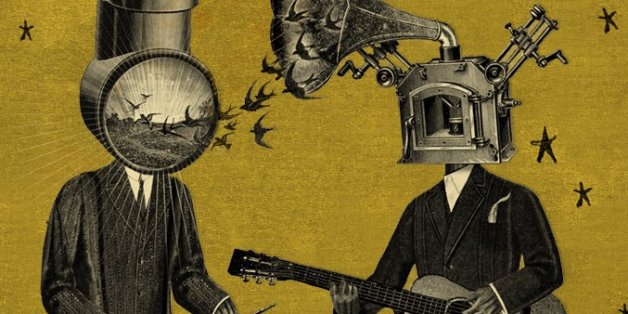 Capitalizing on the momentum of their recently announced 15-year anniversary tour, Neutral Milk Hotel has added a handful of North American dates to the lineup.
The additional stops mostly fill the group's winter calendar, which finds NMH playing five gigs in New York along with additional outings in Philadelphia, Chicago, Minneapolis, New Orleans and other major cities. The band kicks off the lengthy tour Oct. 11 in Baltimore. The celebrated indie quartet will head overseas for a stretch of November and December stops before resuming stateside efforts in mid-January.
All four core members of the band -- Jeff Mangum, Scott Spillane, Julian Koster and Jeremy Barnes -- will hit the road for the group's first collective engagement since going on indefinite hiatus following 1998's critically acclaimed album "In The Aeroplane Over The Sea" and its subsequent tour. Magnus, Spillane, Koster and Barnes have all released material independent of NMH in the interim.
Check out the group's full list of tour dates:
Oct. 11—2640 Space At St. John's Church—Baltimore, Maryland*
Oct. 12—The National—Richmond, Virginia *
Oct. 14—Madison Theater—Covington, Kentucky *
Oct. 15—The Canopy Club—Urbana, Illinois *
Oct. 16—The Blue Note—Columbia, Missouri *
Oct. 18—Minglewood Hall—Memphis, Tennessee *
Oct. 19—Track 29—Chattanooga, Tennessee *
Oct. 20—Iron City—Birmingham, Alabama *
Oct. 22—40 Watt Club—Athens, Georgia *
Oct. 23—40 Watt Club—Athens, Georgia #
Oct. 24—40 Watt Club—Athens, Georgia ^
Oct. 25—Mountain Oasis Electronic Music Summit—Asheville, North Carolina #&
Oct. 26—The Tabernacle—Atlanta, Georgia #
Oct. 27—The Tabernacle—Atlanta, Georgia *$
Nov. 10—Harvest—Melbourne, Australia
Nov. 16—Harvest—Sydney, Australia
Nov. 17—Harvest—Brisbane, Australia
Nov. 20—Sammy's—Dunedin, New Zealand
Nov. 22—James Cabaret—Wellington, New Zealand
Nov. 23-24—King Arms Tavern—Auckland, New Zealand
Nov. 28—Hostess Club Festival—Taipei, Taiwan
Dec. 1—Hostess Club Festival—Tokyo, Japan
Jan. 20—Kool Haus—Toronto, Ontario
Jan. 22—The Capitol Theatre—Port Chester, New York
Jan. 24-25—BAM Howard Gilman Opera House—Brooklyn, New York
Jan. 27-28—Webster Hall—New York, New York
Jan. 29—Union Transfer—Upper Darby, Pennsylvania
Jan. 31—DAR Constitution Hall—Washington, DC
Feb. 1-2—Cat's Cradle—Carrboro, North Carolina
Feb. 4—Ryman Auditorium—Nashville, Tennessee
Feb. 5—The Pageant—St. Louis, Missouri
Feb. 6-7—The Riviera—Chicago, Illinois
Feb 8—Orpheum Theater—Madison, Wisconsin
Feb. 10-11—First Avenue—Minneapolis, Minnesota
Feb. 13—Uptown Theatre—Kansas City, Missouri
Feb. 14—Cain's Ballroom—Tulsa, Oklahoma
Feb. 15—Majestic Theatre—Dallas, Texas
Feb. 17-18—ACL Live At The Moody Theater—Austin, Texas
Feb. 19—Warehouse Live—Houston, Texas
Feb. 20—Civil Theatre—New Orleans, Louisiana
May 29-31—Primavera Sound—Barcelona, Spain
June 5-7—Optimus Primavera Sound—Porto, Portugal
* with Elf Power
# with Half Japanese
^ with Circulatory System
& with Daniel Johnston
$ with Robert Schneider
BEFORE YOU GO
PHOTO GALLERY
Reunions We're Waiting For