The creation of an unofficial white student union at a public university in Georgia has ignited a debate over whether the organization should be officially ratified by the school, pitting the principles of tolerance against those of free speech.
The white student union, founded recently at Georgia State University (GSU) in Atlanta by student Patrick Sharp, 18, is intended to "provide a place for like-minded White students to come together and not only celebrate their common European/Euro-American cultures, but to discuss issues that affect white people in the world today," according to its website.
While that sounds somewhat vague, Sharp named "government-enforced racial discrimination in the form of affirmative action and immigration polices" as an issue that directly affects white people today in an interview with the Atlanta-based alt-weekly Creative Loafing.

"With politicians calling for a 'national discussion' on race, why should white people be left out of it?" Sharp wrote to HuffPost in an email. "We're simply trying to make our collective voice heard."
But predictably, opposition to the union -- which cannot be formally created without a faculty sponsor -- has already sprung up. GSU Vice President For Student Affairs Doug Covey told local radio station WSB 750 AM that he'd already received a "handful" of complaints after the group handed out fliers emblazoned with a map of Europe and the slogan "It's time." (Covey said he responded by arguing the group had a right to exist.)
"A week or two ago a few flyers appeared on campus suggesting that it would be appropriate to organize a white student union organization," Covey wrote in an email to The Huffington Post. "So far we have received a few emails expressing concern and have responded to each individually."
Covey emphasized that the "group in question is apparently operating informally."
"There has been no contact between the student organizer and the Administration. The group has not sought to be formally recognized by the institution," he added.
But, Covey said, all GSU students "enjoy the right to engage in free speech."
"They may conduct their activities in publicly accessible areas as long as they do not disregard institutional policies and the rights of others," he wrote.
Perhaps worrying for some is that Sharp has said his inspiration for founding the group came from a white student union that was formed last year at Towson University near Baltimore, Md. Towson's white union quickly gained notoriety when two of its members made inflammatory comments defending slavery at a conservative political conference. The group was also known for leading controversial "night patrols" in order to deter black-on-white crime, which it claimed was an issue in the area.
Still, there are important differences between that group and the one formed by Sharp. Towson University is 68 percent white, while GSU is much more diverse: whites make up just 38 percent of the student population, while blacks stand at 35 percent and Asians at 12 percent, according to The Atlanta Journal Constitution.
Moreover, the white union at GSU so far seems aimed more at dialogue than at provocative actions like night patrols. Sharp told HuffPost that his group was "by no means a clone group" of Towson's, and that it "wasn't looking to bite off more than [it] can chew." Sharp also said there'd be no night patrols. "We've got a great campus police force at Georgia State that provides escorts for students," he wrote.
GSU's student newspaper, The Signal, summed up the debate well. "Nowhere in [the union's] description is there demands for white dominance, ethnic cleansing, or racial segregation," wrote student Mitchell Oliver. "If you replace the word 'white' with any other ethnicity and you have the basic idea behind every cultural organization on campus."
But in the same article, another student, Terry Harlin, contested that argument.
"Do white students need a unified voice?" he asked. "Are there needs that are not being met? Why not a European cultural club, if the emphasis is indeed on heritage?"
This story has been updated to reflect comment from GSU's vice president for student affairs.
LOOK: The flier advertising Georgia State University's informal white student union. (Photo courtesy of WSB Radio 750 AM)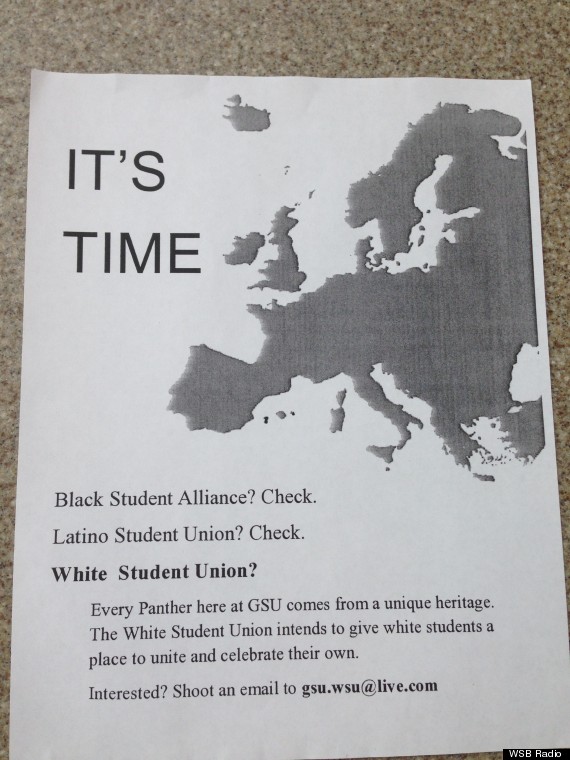 BEFORE YOU GO