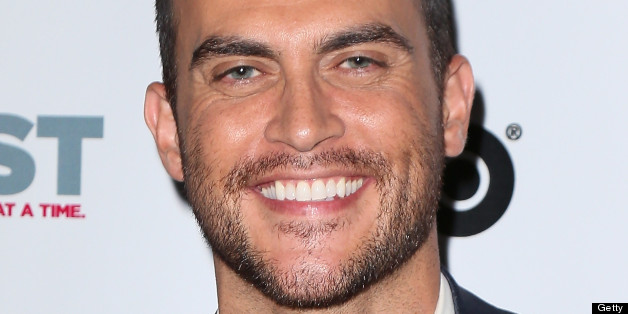 Stage and screen star Cheyenne Jackson appeared on "The Frank DeCaro Show" after news of his forthcoming divorce from husband Monte Lapka hit the media.
The 38-year-old actor-singer, whose new album "I'm Blue, Skies" hit stores in June, described the split as "mutual, amicable" while admitting it was "a sad personal thing."
The Broadway veteran, who was recently seen in HBO's Liberace biopic "Behind the Candelabra," shrugged off rampant media speculation that his new look (which evidently includes a 1970s-style handlebar mustache and new tattoo) was somehow connected to the breakup, joking, "I have not gone off the deep end."
The mustache, Jackson said, is for a role in a forthcoming Ira Sachs film. As for the new ink, he added, "It's for my dad. It's song lyrics from an old Elvis [Presley] song that he used to sing to me when I was little. It was going to be a Christmas present, but I decided to give it to him early ... it's very special, and for that to be kind of reduced to gossip fodder is obnoxious."
Listen to part of the interview here:

Jackson confirmed reports that he's joined Alcoholics Anonymous (A.A.), noting, "I own it. I'm proud of myself."
Of the media attention to his divorce, Jackson acknowledged the significance of being an openly gay performer who was also married, saying, "Sometimes I think I am a little naïve to think that people even care, but they do...I know that our marriage meant a lot to a lot of people…so that's not lost on me, and I respect that."
Listen to the second part of the interview here:

Jackson and Lapka, who had been together for a total of 13 years, tied the knot in a private ceremony in September 2011.
Finally, Jackson broke his silence on the death of "Glee" star Cory Monteith, calling it "a terrible thing."
"My heart goes out to his family and to Lea and to everybody that knew him because he was light….he was lit from within and when you met him, you couldn't deny it," he said.
Listen to the third segment below:

BEFORE YOU GO
PHOTO GALLERY
Celebrities Who Have Come Out As LGBT