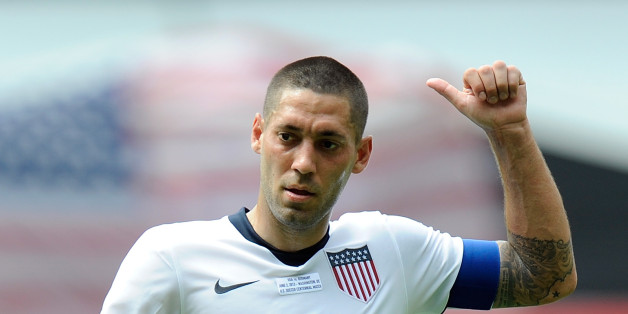 Clint Dempsey may be coming home.
The 30-year-old U.S. international is close to returning to MLS with the Seattle Sounders, according to ESPN. Dempsey's transfer from Tottenham Hotspur to the Sounders was being finalized on Friday, according to unnamed sources who spoke with ESPNFC.com.
Speculation about Dempsey's future ramped up on Thursday when he was spotted going through customs at San Francisco International Airport. An Instagram image of Dempsey at the airport sparked Twitter rumors about his future.
Was he en route to Seattle to sound out the Sounders? Was he arriving to meet with Everton in San Francisco? Or was he just hoping to check out another Mariners game?
So Seattle has gone Clint Dempsey bonkers! Rumours of signing has #Sounders fans staking out airport. No, Footy doesn't matter in the USA ;)

— Arlo White (@arlowhite) August 2, 2013
One of Dempsey's teammates on the USMNT -- and potentially future teammates in Seattle -- even got in on the action, addressing the rumors on Twitter.
I think everyone needs to calm down. If Dempsey was coming I would of been spilled the beans #foodforthought

— Eddie Johnson (@eddie_johnson7) August 2, 2013
Further dampening the transfer, coach Sigi Schmid downplayed any contact with Dempsey during a radio interview on Friday.
"Not at this stage that I'm aware of. I know Clint, I've talked to him, I follow his career, but there's nothing there that I can say right now," Schmid told 950 KJR, via Sports Illustrated. "We're always looking for good players. You can't ever close the door on anything, but right now there is nothing that's nailed down and concrete."
A Dempsey transfer to Seattle would be a major coup for the MLS in the run-up to the 2014 World Cup. The attacking player arrived at White Hart Lane ahead of the 2012-13 season on a £6million transfer from Fulham with a three-year deal, according to Sky Sports. The Texan had landed with Fulham in December 2006 after a transfer from the MLS' New England Revolution. He began his professional career in New England in 2004.