A downstate Illinois university is standing by one if its award-winning professors after a recent story in a Texas newspaper revealed him to have brutally killed his entire family as a teenager in a small Texas town more than 40 years ago.
Story continues below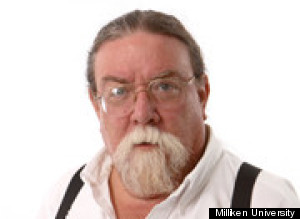 Millikin University professor James St. James
Last week, a reporter from The Georgetown Advocate tracked down the department chairman of Millikin University's psychology department, Professor James St. James, and connected the dots between the 61-year-old's peaceful life as an academic and his violent past as Jim Wolcott, known murderer.
"Millikin University has only recently been made aware of Dr. St. James' past. Given the traumatic experiences of his childhood, Dr. St. James' efforts to rebuild his life and obtain a successful professional career have been remarkable," Millikin officials said in a statement according to the American-Statesman.
When reached for comment at his central Illinois home in Decatur, St. James told the Sun-Times, "The university has issued a statement and that will, that will have to do."
St. James, who at the time was known by his given name of Wolcott, murdered his parents and sister in their Georgetown, Tex. home in 1967, according to the Advocate. Huffing airplane glue and professing to be mentally ill, the 15-year-old St. James was ultimately found not guilty of his crimes by reason of insanity and ordered to be hospitalized until he "became sane." He would be released six years later and go on to pursue multiple degrees in psychology.
Despite calls for his resignation -- including one from the mayor of Millikin University's hometown of Decatur -- St. James will remain part of Millikin's staff and, according to the Sun-Times, is expected to teach classes this fall.
Those who knew St. James only in the past three decades of his life as an academic expressed support for him, though many wondered how the university never picked up on his shocking past. St. James filed for a legal name change in 1976 after he was released from the hospital.
Douglas M. Benold, the now-retired doctor who declared St. James insane after a 1968 examination, told the Sun-Times, of St. James' new life: "I think that's wonderful, if it's for real. Knowing his background, I'm glad he's there instead of in Georgetown."
BEFORE YOU GO
PHOTO GALLERY
10 Major Crimes That Shocked America (SLIDESHOW)