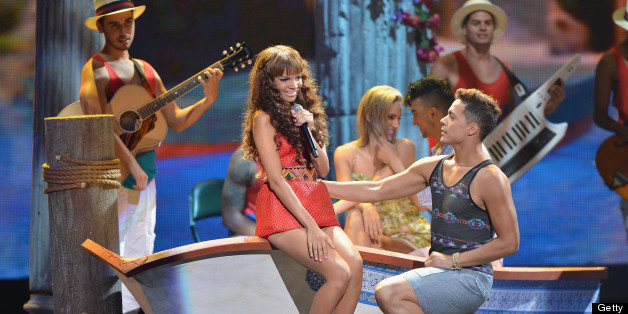 Leslie Grace has come to be known as the "Princess of Bachata."
This young girl from the Bronx puts a different twist on things, mixing classic hits from the '60s with bachata in both English and Spanish.
The daughter of Dominican parents, Grace's move from her birth city of Davie, Fla., to the Bronx in New York City could explain the uniqueness of her sound. Since the age of two, Grace has been entertaining her five siblings along with her parents, who could only see the inevitable talent she was bound to share with the world.
Leslie Grace sings to the top
The bilingual artist has been hard at work since last year's Premios Juventud when she released her first single, "Will You Still Love Me Tomorrow." With the release of her new hit album, "Leslie Grace," this Dominicana is living the dream.
Her modern-day version of "Be My Baby" includes Spanglish lyrics along with the Dominican rhythms for which Grace is becoming so well known. Her musical style continues to top the charts, allowing people to fall in love with her music one song at a time. The song is currently a top 10 single, taking over the radio and climbing up the charts in both the U.S. and Puerto Rico.
Recently having performed her new hit "Be My Baby" at the 2013 Premios Juventud award show, the 18-year-old was able to capture the audience with her voice and performance.
Along with the new song's success, the album "Leslie Grace" remains in the No. 5 position on Billboard's Top Latin Albums chart in its third week of being released. The album includes 11 songs sure to satisfy the ear of people with different tastes. There is a mix of pop and bachata throughout the entire album, along with her famous Spanglish lyrics.
The Dominicana makes history
Back in 2012, the then 17-year-old made Billboard chart history, becoming the youngest female singer to reach a Latin radio No. 1 spot, as "Will U Still Love Me Tomorrow."
So young and doing so well, the young artist is sure to stay around and shine while giving us all a little of her Dominican flavor.
The new album "Leslie Grace" is available on iTunes. Keep up with "La Princesa de la Bachata" by following her Facebook and Twitter accounts.
Listen to Leslie Grace's 'Be My Baby'
Originally published on VOXXI as Leslie Grace, 'Princess of Bachata,' shines with new hit 'Be My Baby'
BEFORE YOU GO
PHOTO GALLERY
Premios Juventud 2013 -- Rehearsal