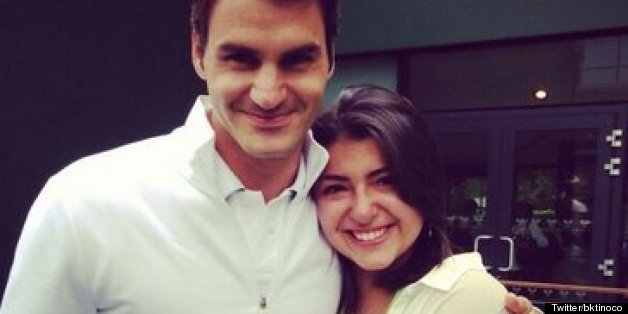 Roger Federer has proved he's a superstar both on and off the tennis court. This week, a story about him taking time out of his hectic schedule to brighten a cancer survivor's day has gone viral, prompting fans around the world to label the tennis champ a person of "perfection."
The story begins last year when Beatriz Tinoco, an 18-year-old tennis enthusiast and Federer superfan from Rockville, Md., who battled cancer from 2011 until 2012, told the Make-A-Wish Foundation that her dream was to meet the Swiss tennis star.
Tinoco waited for news about her wish for more than a year. Explaining in a TwitLonger post this week, she said her hope of meeting Federer began to wane as the months passed. "I didn't really know if they were gonna be able to grant me this wish … since Roger has such a busy schedule and it was taking such a long time," she wrote.
In June, the teen got the surprise of a lifetime when Federer, via an ESPN film crew, sent Tinoco a video invitation to attend the Wimbledon tournament with her family. "I heard you're a big fan of mine," the tennis star wrote, according to Tinoco. "So I'm inviting you with your family to come watch me play."
A few days later, Tinoco was on a plane to England with her parents and sister. Her Federer adventure had only just begun.
She writes of her first encounter with the champ:
[W]e went to the All England Club where I was actually gonna meet him. We were waiting on the place where players eat and hang out. … I wasn't expecting anythint [sic], just sitting watching some practices and someone calls my name. I turn and it's FREAKING ROGER FEDERER. He comes up, gives me a hug and a kiss and then sits down and starts talking to me very naturally. I was trying hard not to freak out haha. We talked for about 10-15 minutes ... which I was told later he wasn't supposed to do. He was just supposed to come and say hi and then go to practice but he's a perfect human being and talked to me for a while!
Federer then invited the young woman to watch him train on the court, before offering her one of his rackets and letting her practice with him. Tinoco admitted that she was "really scared" to play the tennis great, but said Federer went out of his way to ease her mind.
Tinoco documented her dream day with Federer on Twitter, posting enthusiastic captions to accompany her adorably happy snaps:
I love you so freaking much @rogerfederer pic.twitter.com/cRDGrx6XTm

— Beatriz (@bktinoco) July 27, 2013
selfie Federer always makes me happy <3 @rogerfederer we'll always support you pic.twitter.com/tiOzllFc8q

— Beatriz (@bktinoco) July 25, 2013
Casually hitting with @rogerfederer @Wimbledon pic.twitter.com/dW6kRXVpZU

— Beatriz (@bktinoco) June 22, 2013
"[Federer] stayed a lot more than he had to for sure," Tinoco wrote of her idol's unexpected attention.
At the end of their day together, Tinoco says the athlete "went around the table hugging my mom, my dad and my sister." Writing about her turn, she says, "He told me I had been through a lot and hugged me really hard and I just started crying so so so much in his shoulder. … He was like 'awnn.' Then when I let go of him I was still like sobbing and I turned to him and he was kinda tearing up."
Since Tinoco posted her story Tuesday, fans from all around the world have lauded the tennis star for his compassion and generosity.
"Roger Federer remains the nicest person to ever ascend to the top of his sport," wrote one Twitter user Friday.
"Roger Federer = saint," wrote another.
What do you think of Federer's gesture? Tell us in the comments (below) or tweet us @HuffPostSports.
BEFORE YOU GO
PHOTO GALLERY
11 Inspiring Olympians