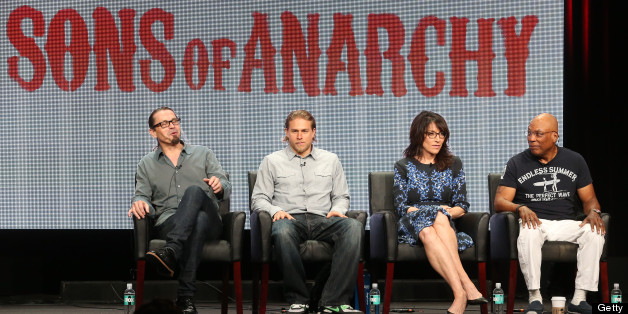 "Sons Of Anarchy" creator Kurt Sutter addressed a shocking, violent scene in the show's upcoming Season 6 premiere Friday at the Television Critics Association 2013 Summer press tour.
Note: Do not read on if you do not want be spoiled for the "Sons of Anarchy" Season 6 premiere, airing Tuesday, September 10 at 10 p.m. ET on FX.
"Sons of Anarchy" has never shied away from depicting grisly acts of violence, but critics who have already seen the scene -- which depicts a school shooting perpetrated by a young boy -- described it as particularly disturbing. The Daily Beast contributor Jason Lynch tweeted, "Even by 'Sons Of Anarchy' standards, [this] isn't going to sit well with a lot of people."
Sutter discussed and defended the likely-to-be-controversial scene, describing it as a "catalyst for the third act of this morality play we're doing," according to TV Guide. He emphasized that he's not taking the scene lightly, and had been contemplating doing it for three years, TV Tango reported.
"I know obviously that it would be somewhat controversial, but I feel like as much as I wouldn't do something because it was controversial, I'm also not going to do something because it is," he said, according to TVLine.
Sutter emphasized that the scene "is not being done to be sensational," according to IMDb, and he said it will drive the story towards its "ultimate comeuppance." "It's an organic story to our world; thematically, it's the right fit," he added (via TVLine).
In other "Sons" news from the show's TCA panel, Sutter revealed that each episode of the already hour-long show will be 15-30 minutes longer this season, according to TV Guide's Damian Holbrook.
"Sons Of Anarchy" Season 6 premieres Tuesday, September 10 at 10 p.m. ET on FX.
PHOTO GALLERY
TCA Quotables, Out Of Context
BEFORE YOU GO