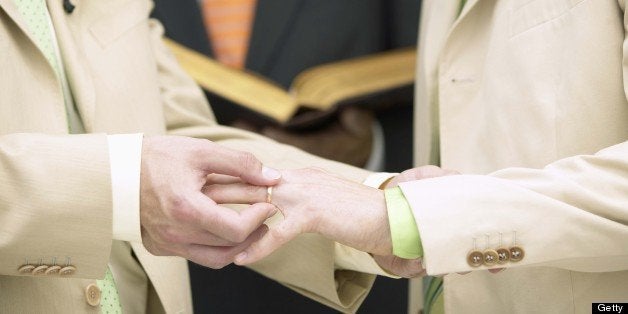 A solid majority of Americans believe that businesses should not be able to refuse service to lesbian, gay, bisexual and transgender (LGBT) people, but many remain surprisingly uninformed about anti-discrimination legislation in their home state, a new survey has found.
A partnership between Third Way and the Human Rights Campaign, the poll was conducted in June in an effort to determine where U.S. residents stood on same-sex marriage, non-discrimination laws and religious liberty exemptions. Of the random sample of 800 registered voters, 69 percent believed that U.S. government employees should not be able to refuse service to LGBT couples. Sixty-nine percent felt similarly about businesses, saying that those entities should not be able to refuse service to gay people either.
On the flip side, 56 percent of participants also thought it was illegal for business owners in their home state to refuse service to someone because he or she is gay, even though 30 percent of those respondents lived in states were that discrimination was still legal.
The report, of course, comes on the heels of a number of cases across the nation in which gay or lesbian customers who were in the midst of planning weddings to their same-sex partners were turned away by private businesses, whose owners claimed they did not endorse marriage equality. In May, Pam Regentin, the owner of Oregon's Fleur Cakes, argued that she had "the liberty to live by [her own] principles" when she turned away a lesbian couple who had sought a wedding cake, while Sweet Cakes By Melissa owner Aaron Klein also admitted he denied a lesbian bride-to-be a cake for her forthcoming wedding after she visited his Gresham shop on Jan. 17.
Fifty-seven percent of the poll's respondents believed that businesses providing flowers, food or other items for a same-sex couple's nuptials is "simply fulfilling a contact for services" rather than showing a public endorsement.
You can read more about the Third Way/HRC poll here.
BEFORE YOU GO
PHOTO GALLERY
ThirdWay & HRC Poll