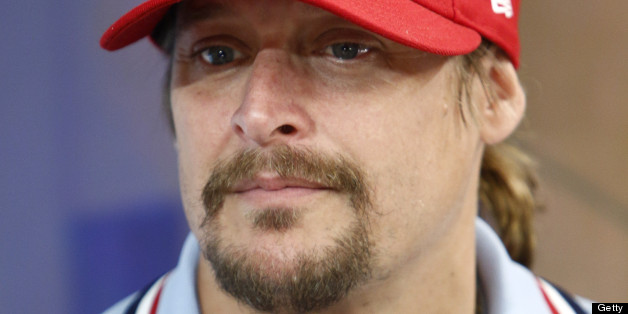 Kid Rock is one musician you do not want to mess with.
The 42-year-old posted a menacing note on his website, KidRock.com, with photos of an alleged trespasser who tried to break into his home.
"Suspect wanted for trespassing, destruction of property and attempted home invasion," Kid Rock wrote, describing the man with crutches in the accompanying photos. According to the post, the break in occurred last Wednesday, July 31.
"Thank God I was not on the property at the time of this attempted break in," he goes on to write. "I am an avid hunter and marksman and I will not hesitate to shoot anyone who has myself or family in fear for our lives." "I take the invasion of my personal space very seriously regardless of who you are and YES, I do profile people. I am currently profiling any balding white male on crutches driving a white creeper van."
Per the post, anyone with valuable information about the intruder stands to gain $5,000. The musician also urges his fans or anyone with knowledge of the man in the photos to call the Oakland County Sheriff's office.
Kid Rock is nowadays touring the country, for which he made headlines when he ensured concert-goers will be able to snag tickets for only $20 a seat.
BEFORE YOU GO
PHOTO GALLERY
Celebrity Mugshots