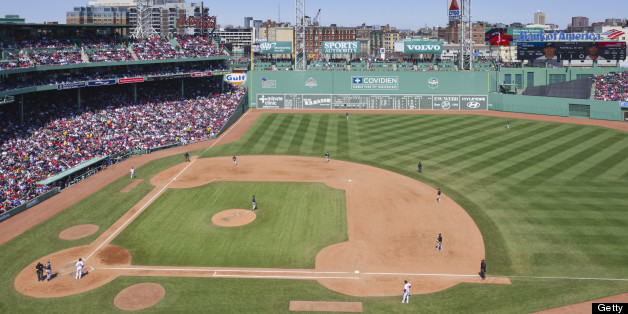 Two reporters who cover the Arizona Diamondbacks briefly became the story on Saturday night when they were stuck in an elevator at Fenway Park.
Steve Gilbert of MLB.com and Todd Walsh of Fox Sports Arizona were at Fenway to cover the D-Backs' Interleague tilt with the Sox. Following the home team's 5-2 win, the pair of Arizona media members were on their way back up to the press box from the ground floor when the elevator became stuck, according to The Associated Press.
Not letting their predicament get in the way of a good scoop, Gilbert and Walsh decided to live tweet their situation and eventual rescue. Based on the timestamps of their tweets, the entire misadventure lasted approximately 30 minutes.
Stuck in an elevator at Fenway Park with @ToddWalsh

— Steve Gilbert (@SteveGilbertMLB) August 4, 2013
Third elevator stuck in on this #dbacks trip. pic.twitter.com/vLWNcS7dAC

— Todd Walsh (@ToddWalsh) August 4, 2013
Trying to fix the Fenway elevator. #stuck pic.twitter.com/Npne5d4Psv

— Steve Gilbert (@SteveGilbertMLB) August 4, 2013
They are drilling through the roof of the elevator car to get us.

— Steve Gilbert (@SteveGilbertMLB) August 4, 2013
The elevator repair man said for us to "hang in there." Is that gallows humor?

— Todd Walsh (@ToddWalsh) August 4, 2013
It's confirmed. For the first time in my life I am exiting through the ceiling of an elevator. This feels like an episode of "Emergency"

— Todd Walsh (@ToddWalsh) August 4, 2013
In case you're wondering, this is what an elevator shaft looks like at Fenway Park. pic.twitter.com/AfZNe2jrJv

— Steve Gilbert (@SteveGilbertMLB) August 4, 2013
@SteveGilbertMLB Even stuck in an elevator he has time to take shots at me.

— Barry M. Bloom (@Boomskie) August 4, 2013
Here's @toddwalsh coming up thru roof of elevator. pic.twitter.com/OhPCBRIAP7

— Steve Gilbert (@SteveGilbertMLB) August 4, 2013
@SteveGilbertMLB exits the lunar module. One small step for http://t.co/Ue2WlFa1wa. pic.twitter.com/NnUFvDZU0M

— Todd Walsh (@ToddWalsh) August 4, 2013
My fav part of being rescued from the elevator at Fenway? Our hero saying as he dropped in from the ceiling "You're not tweeting are ya?"

— Todd Walsh (@ToddWalsh) August 4, 2013
We made it out safely. Thanks to #RedSox maintenance crew. Now on to the writing of the game story. #Dbacks @ToddWalsh

— Steve Gilbert (@SteveGilbertMLB) August 4, 2013
Favorite part was when the guy pops his head in from the top of the elevator and goes "you guys aren't tweeting about this are you?" Nah...

— Steve Gilbert (@SteveGilbertMLB) August 4, 2013
BEFORE YOU GO
PHOTO GALLERY
2013 MLB Season Highlights