The second day of Lollapalooza threw a mix of weird -- lineup shuffles, claustrophobic crowds -- and wonderful -- awesome weather, wheelchair crowd surfing! -- into Chicago's Grant Park Saturday.
Beginning with the weird, the day got off to a strange start when rumors tricked out that scheduled Saturday performers Death Grips pulled a no-show at their official after party performance the night prior. The no-show was confirmed and Lolla released a terse message that the band "chose not to appear" before announcing their set cancellation.
Story continues below
PHOTO GALLERY
Lollapalooza 2013 Saturday Highlights
Crowds reportedly packed the park shortly after the gates opened at 11 a.m., morphing Grant Park into a claustrophobe's nightmare. According to Tribune music critic Greg Kot, festival officials were officially reporting 100,000 attendees per day, surpassing the cap of 75,000 set several years ago.
Moving from the Red Bull Stage at the southernmost end to the Bud Light stage to the north took some 20 minutes, even for fast, pushy walkers (like this editor), so I'm highly skeptical of the Lolla reports. As others have suggested, the festival must be overselling because the estimations felt too low by at least 20,000 bodies (and as Time Out Chicago's Brent DiCrescenzo noted, city officials estimated 2 million for the Blackhawks victory rally in Grant Park, and Lolla feels much more crowded).
Regardless of Lolla's fuzzy math, the attendance-tying count from last year was 270,000, according to NBC, meaning this year's festival all but certain to be one for the record books.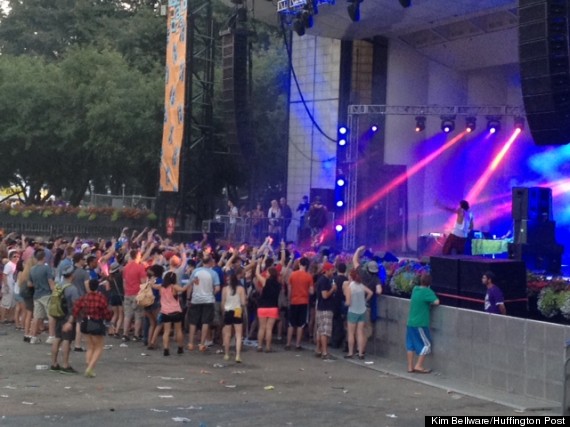 Supreme Cuts and JODY at the Petrillo Stage.
Straddling the line of weird and wonderful was the early evening set from Chicago production duo Supreme Cuts. Known for creating incessantly danceable remixes, the group suffered every laptop reliant performer's worst nightmare when their computer broke down as their set started. Embarrassing as it was for the band, it was even more heartbreaking until -- like true Chicagoans -- Supreme Cuts got scrappy and creative. They duo handed the stage over to their friends who were on hand to back them, transforming the scheduled Supreme Cuts set into the Brandon Boom and JODY set. Boom, of local outfit The-Drum, and the R&B vocal group gave the tiny crowd an exuberant, house party-themed show. Citing his Nigerian upbringing, JODY vocalist James King also coined our favorite new term of the year when describing JODY's vocal electronic party sound: "Chigerian."
The overlapping sets from The National the British rockers Foals were studies in opposing forces. In recent years, The National was one of the most popular "indie" bands to land mainstream attention. Whatever good that does them now seemed absent during their pleasant but snooze-inducing set. At a key time of day when attention spans tend to wane, The National did little to thrill. Foals, on the other hand, were full of tension and elastic guitar sound that was explosive and Blues-y one minute, and intricate to the point of delicate the next.
Kendrick Lamar was joined on stage by a special guest during his set, but it wasn't label mate (and sometimes stage crasher) Lady Gaga; it was a man (there were two, actually) in a wheelchair who crowd surfed to the stage.
Before that stunning moment, Lamar's presence was a tidal wave, drawing the most crowd interaction that we've seen at the festival thus far. Fans even in the way-way back were jutting their hands into the air at Lamar's call, singing, waving and deeply tuned in to the rappers' beat.
Now, if JODY jumping in for Supreme Cuts in a pinch was an endearing moment of the fest, Kendrick Lamar's wheelchair crowd surfers took it to an entirely new level. The two men, both in wheelchairs, had surfed from quite a distance as the crowd chanted. Lamar essentially ground his set to a halt as the first man surfed toward the stage and the crowd erupted in cheers as if a mega-star had walked on for a surprise appearance. In some ways, the man was a star: He provided one of the brightest moments of the festival thus far.
(WATCH: Fan in wheelchair crowd surfs to stage for Kendrick Lamar.)
Mumford & Sons or Postal Service? Focusing on the objective reasons, seeing The Postal Service was a slam-dunk choice. Saturday's closer marked the penultimate show of the band's reunion tour, and Ben Gibbard, Jimmy Tamborello, Jenny Lewis and Laura Burhenn went out with a bang. The band churned through its lone album, 2003's "Give Up," several of their dazzling B-Sides and rarities and a Beat Happening Cover ("Our Secret").
In the decade since fans clung to songs like "District Sleeps Alone Tonight" and "Such Great Heights," not much has changed in the band's sound: Gibbard's voice is still so earnest it almost feels embarrassing at times, Jenny Lewis sounds dreamy and distant and the rest of the synth and drums still snap to make feet move as hearts break. The massive crowd (which was still dwarfed by that of Mumford & Sons) sang and swooned, giving a rare feeling of intimacy in a space so massive.
Sure, the band is probably too sentimentally schlocky and earnest by a mile for many listeners, but for true fans who were lucky enough to catch The Postal Service in one of their final shows, the effort couldn't have been better.
BEFORE YOU GO
PHOTO GALLERY
Lollapalooza 2013 Friday Highlights