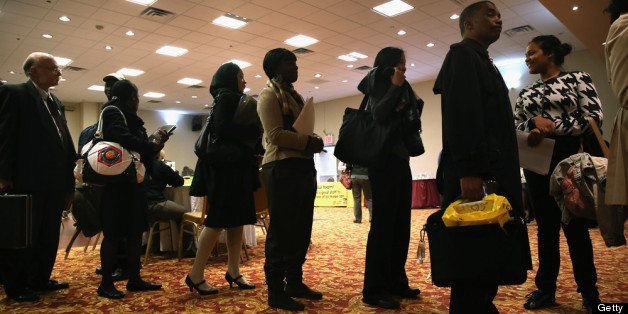 Although the Bureau of Labor Statistics' latest employment report shows a drop in the national unemployment rate, Latinos didn't get such good news.
While the national unemployment rate dropped from 7.6 percent to 7.4 percent in July — the lowest level since December 2008 — the Latino unemployment rate crept up to 9.4 percent last month, up from 9.1 percent in June.
In April, the Latino unemployment rate had dropped to 9.0 percent — the lowest since November 2008 — and it has climbed ever since.
Alan Krueger, chairman of the White House Council of Economic Advisers, released a statement in response to the latest employment report:
"As the Administration stresses every month, the monthly employment and unemployment figures can be volatile, and payroll employment estimates can be subject to substantial revision. Therefore, it is important not to read too much into any one monthly report and it is informative to consider each report in the context of other data that are becoming available."
GOP: Obama avoiding Latino unemployment rate issue
Republicans have criticized President Barack Obama over the high unemployment rate for Latinos before.
The Republican National Committee has repeatedly suggested that Obama puts more focus on the issue of immigration reform as a way to avoid discussing other issues affecting Latinos, such as the unemployment rate and the 2.3 million Latinos who are unemployed.
"While immigration reform is an important issue, the President can't hide behind the immigration issue as a way to avoid discussing the effects his policies have on the Hispanic community," the RNC stated in a memo last month.
On Friday, RNC President Reince Priebus released a statement in Spanish, responding to the latest employment report:
"Today's employment report bring good news for some, but these small gains continue leaving behind many families and communities disappointed, especially the Hispanic community who saw the unemployment rate increase up to 9.4 percent.
"This is not how a healthy economy looks like," he added. "This is an economy poisoned by the imprudent politics of an arrogant bureaucracy in Washington."
The White House has responded to such criticism by saying that Hispanic unemployment rates have fallen 3 percentage points since private-sector job growth began in early 2010.
In the first quarter of 2010, the Latino unemployment rate was at an average of 12.6 percent.
Originally published on VOXXI as Latino unemployment rate jumps up to 9.4 percent

BEFORE YOU GO
PHOTO GALLERY
9 Ways Americans Haven't Recovered