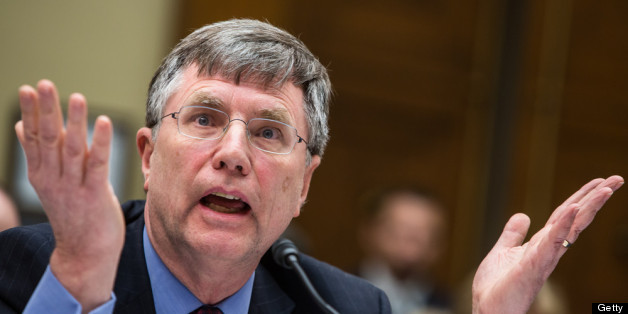 FORT MEADE, Md. -- The sentencing phase of Bradley Manning's trial took an intense, ripped-from-the-headlines turn Monday as a top State Department official denied that he had squelched an investigation into allegations that the U.S. ambassador to Belgium solicited sex from prostitutes and minors.
The day began in a friendly fashion. Under questioning from military prosecutor Maj. Ashden Fein, Undersecretary of State for Management Patrick Kennedy testified in a bureaucratic monotone that Manning's bulk release of diplomatic cables to WikiLeaks had "a chilling effect that will go on for some time" on foreign officials' willingness to speak candidly to U.S. diplomats.
"People have long memories," said Kennedy, who led the department's crisis-mode reaction to WikiLeaks' release of diplomatic cables in 2010.
The tenor of Kennedy's testimony changed when defense attorney David Coombs stood up for cross-examination.
Manning was convicted on 19 counts last week for giving reams of sensitive government documents to WikiLeaks. Whether his leaks caused any serious harm has emerged as a central point of contention during the sentencing phase of his trial.
Standing before a courtroom of Manning supporters wearing t-shirts emblazoned "truth," Coombs reminded Kennedy -- a high-ranking career State Department employee who has wielded power within the inner sanctum of Foggy Bottom under presidents Democratic and Republican -- that he was under oath. Then Coombs peppered Kennedy with blunt questions about the government's assessments of the damage WikiLeaks had done and whether Kennedy could be trusted.
Coombs brought up in particular an anonymously sourced report from Reuters in January 2011 that unnamed State Department officials had told Congress that WikiLeaks' release of thousands of diplomatic cables was "embarrassing but not damaging." The Reuters report came just months after Kennedy testified to Congress in closed session about damage from the anti-secrecy group's activities.
"I never said that," Kennedy replied on Monday, his tone growing combative.
Manning's lawyer also played a November video of then-Defense Secretary Robert Gates saying at the Pentagon that "governments deal with the United States because it is in their interest. Not because they like us, not because they trust us and not because they believe we can keep secrets."
Coombs asked whether Kennedy had a "vested interest in making the Department of State look good." The implication was that Kennedy did not sign off on an August 2011 WikiLeaks damage assessment the department had drafted because it might have made previous public claims about widespread harm look hyperbolic.
Kennedy responded that he could not answer the question in a yes-or-no fashion.
"Of course I've been a foreign service officer for 40 years. Of course I am proud of the agency at which I work. I am proud of our agency's contribution to the national security," he said. "But I don't think that pride goes to the point of saying I will defend the State Department at any cost or defend the State Department when it's wrong."
Kennedy has been accused of doing just that in two high-profile matters: his response to the attack on the U.S. mission in Benghazi, Libya, when he signed off on altered talking points about the terrorist attack, and the still-developing allegations that he stopped an internal investigation into Howard Gutman, U.S. ambassador to Belgium.
The State Department's inspector general was reportedly looking into claims that Gutman had solicited sex from prostitutes and minors. Kennedy has strenuously denied claims that he halted that investigation. Gutman, who has not been charged with any crime, has said the allegations were "baseless."
On Monday, Coombs asked whether there was an ongoing investigation into Kennedy for allegedly stopping the Belgium inquiry.
"There is somebody who wrote a letter saying that I stopped an investigation, yes," Kennedy said.
But he added in response to a follow-up question, "I have no idea what the allegation says, it just says that I stopped the investigation -- and it happens to be entirely false."
BEFORE YOU GO
PHOTO GALLERY
Guantanamo Bay Revelations From WikiLeaks