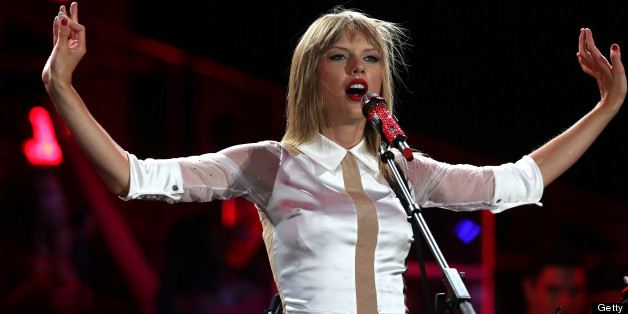 Taylor Swift has some devoted fans who plaster themselves in twinkle lights and red solo cups in the hopes of being plucked from the crowds at her shows to meet the superstar singer. But perhaps these fans, with the equally crazy signs they bring to show Swift their love, don't realize their creativity can throw the 23-year-old off her game if she isn't careful.
Rolling Stone magazine caught up with Swift backstage at the New Jersey stop of her Red tour, and she revealed she can get pretty distracted, especially by posters of her cat, Meredith.
"Sometimes I get really caught up in reading the signs, and if I get too caught up I will start to read the signs when I'm singing, so I have to make sure I'm only reading signs in musical breaks," she told the magazine. "[The signs] are all pretty out there most of the time, which I like. There will be people who just make a giant, huge picture of my cat's face, so big that it's all I can see, and that usually gets my attention. My cat out there, giant photocopy of her, eight foot by eight foot."
If you are baffled as to why Swift's fans would blow up photos of her cat, then you are clearly unaware that feline has become a huge star in her own right. When Swift appeared on Katie Couric's talk show "Katie" in October 2012, she spoke of Meredith's rising fame and adoration among fans.
"It's a crazy situation, cause it's a cat," Swift said, adding, "She is awesome. She's like the most adorable cat in the world I feel like. That's very biased though."
Click over to Rolling Stone for more with Taylor Swift chatting about her Red tour.
BEFORE YOU GO
PHOTO GALLERY
Taylor Swift