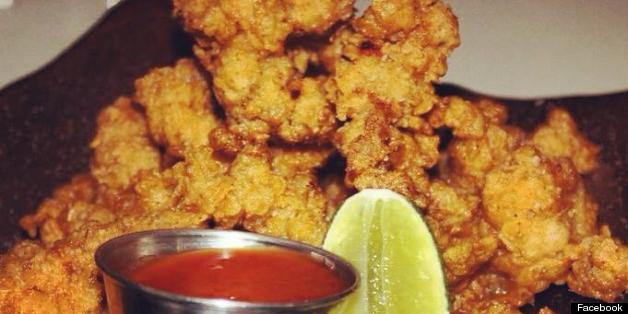 Although South Florida's diverse ecosystem offers Miami gourmets the opportunity to eat unique sustainable food, few local restaurants dare to play with ingredients outside the norm. Enter Box Park.
The just-opened Brickell restaurant offers Florida-centric dishes like fried alligator, wild boar, citrus-cured yellow jack, and pizza topped with duck ham, and will change your approach to consuming local.
The cozy, coolly sophisticated joint is the latest Vassili Group establishment to take residence on the corner of 11th Street and South Miami Avenue. Along with its next door neighbor, The Hoxton, Box Park is the second of the Vassili Group's trifecta of projects that are helping to put Brickell on the map as a fine drinking and dining destination. The third is Harvey Wolf, a swanky lounge opening this fall.
Executive Chef Matt Hinckley, previously of Michael's Genuine Wine & Food, showcases a menu exploding with flavors inspired by his travels from Alaska to Nicaragua to as far as Tanzania -- all while keeping a focus on local farm fresh ingredients.
The snacks include the Daily Bread, which comes with roasted garlic, Egyptian dukkah, and olive oil; Florida mango with burrata, basil, and Sriracha salt; homemade charcuterie, grilled octopus with arugula; crispy duck confit with sweet potato hash; and then, there's the fried alligator served with datil pepper sauce.
For New Age vegivores the cheekily named Brickell Pickles are a must-try: an assortment of pickled out-of-season local fruits and vegetables like lychee, cucumbers, carrots, and Chinese long beans.
Box Park's main entrees are eclectic: Take the Everglades gumbo, a savory and hearty dish that includes wild boar andouille, alligator, shrimp, okra, and sassafras. There are also dishes for the less adventurous eater: a variety of salads and oven roasted pizzas.
Feeling indecisive? Box Park offers a "Just Send Food" option ($100 with beer and wine pairings, $75 without) so you can leave the decision making to the chef.
To top it all off, make sure to leave room for the "ten-fidy split," Box Park's take on a traditional banana split that features imperial stout ice cream, banana, decadent chocolate fudge, and peanuts. It's too good to resist.
Click below for a look inside the restaurant and some of their dishes:
BEFORE YOU GO