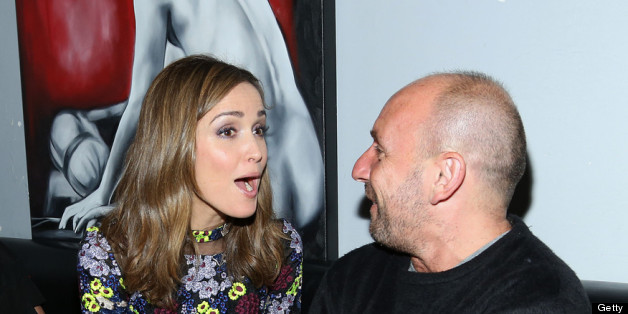 "I Give It A Year"; or, to save romantic comedies, we must first destroy romantic comedies.
Released in the United Kingdom in February and arriving in stateside theaters on Aug. 9, "I Give It A Year" stands as an anomaly on the summer release calendar: it's a romantic comedy, a genre that has been practically abandoned thus far this year. Indeed, no film that could qualify as a rom-com has cracked the top 25 on the 2013 box office chart thus far. Compare that to just five years ago, when four of the top 25 films on the list were romantic comedies.
"I had been disappointed for many years as a consumer of romantic comedies," Dan Mazer, writer-director of "I Give It A Year," told HuffPost Entertainment. "With the exception of 'When Harry Met Sally' and 'Knocked Up,' I thought this was a genre that hasn't really delivered."
To rectify that, Mazer -- a co-writer on the Sacha Baron Cohen films "Borat" and "Bruno" -- decided to turn the genre on its ear: "I Give It A Year" stars Rose Byrne and Rafe Spall as a couple who meet-cute, fall in love and become engaged all before the opening credits are over. The film tracks their new relationship through a rocky first year of marriage, when everything the pair thought they knew about -- and wanted from -- the relationship is called into question.
"It's one of the most familiar oeuvres out there. I've watched too many times the story, for example, of the gruff Australian sheep farmer who falls in love with the ditzy L.A. P.R. girl as they are thrust together to find a dog that's swallowed an engagement ring in Venice," Mazer joked. "Against all the odds they fall for each other and the final scene is the fairytale wedding and they head off into the sunset. I always think, at that moment, 'Well, their life together is going to be disastrous. They are fundamentally ill-matched. Within six months it's going to be an acrimonious divorce.' I wanted to make a romantic comedy that felt true and authentic and edgy about romance, and started where other romantic comedies finish."
That tweak is what made the film so appealing to its cast. "There aren't that many rom-coms that are made -- and there are so many bad ones," Byrne, who has jumped from drama to comedy to even horror over the last few years, told HuffPost Entertainment. "We've all been burnt so many times by rom-coms that are unfulfilling and don't live up to their potential. They aren't particularly romantic and not particularly funny. It's a very hard genre."
Indeed it is: Which is why, in part, Hollywood has left rom-coms behind in recent years in favor of superhero movies and franchises. "Everyone's looking for the next sequel," director Peter Farrelly told Vulture in a piece on romantic comedies in 2012. "But with romantic comedies, it doesn't happen that way."
"It's a very odd situation," Mazer said about the current Hollywood model of filmmaking. "I've had conversations with studios where they actively want things to cost $70 million, as opposed to $20 million. There's something you can make for $20 million and I feel it wouldn't be any worse than the $70 million version. I bet it would be better. There's something about the economics of it that I don't understand -- and won't pretend to understand -- that makes them believe bigger is better. But, hopefully, these things are cyclical and all you need is a couple of hits at that $20 million range and that will be the new vogue."
Whether Hollywood studios decide to do that, of course, is unclear. For instance, much has been made about how "Bridesmaids," which co-starred Byrne, didn't spark the revolution in female-fronted comedies that many thought it would, exceptions like this summer's "The Heat" notwithstanding.
"It's like the industry doesn't have any rules," Byrne said when asked whether she thought "Bridesmaids" would have made a bigger impact. "Everybody can't believe when these things do well; they get shocked, and then it doesn't happen again for years. It's strange."
Byrne, however, cited "The To-Do List," "Bachelorette" and "Girl Most Likely" as examples of a post-"Bridesmaids" boom. Those features were indie releases, perhaps a sign of things to come for future romantic comedies. Not that Mazer even feels his film really belongs in the genre.
"Lots of people say this is a romantic comedy -- and the marketing and trailers basically say romantic comedy," Mazer said, referring to the film's poster, which mentions both "Love Actually" and "Bridget Jones's Diary." "To my mind, however, I always wanted to make a comedy that happened to be about relationships. The term 'romantic comedy' is slightly tinged. And slightly pejorative as well."
"I Give It A Year" is out in limited release on Aug. 9. The film is also available now via on demand services.
PHOTO GALLERY
'I Give It A Year' Photos