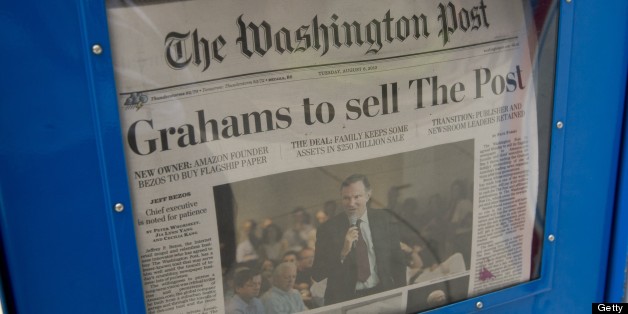 It's been said that newspapers are the first draft of history. And while we hope Jeff Bezos' announced purchase of the Washington Post for $250 million wasn't just a sentimental gesture by a collector of historical items, that's what newspapers have become for some.
While readers have drifted away from having print editions delivered to their driveway, interest remains keen in acquiring front pages of newspapers when there are major news events. Experts say that newspapers make affordable souvenirs of real-life events and many people buy them to preserve and leave to their children. When Barack Obama was elected president in 2008, the line for a copy of the print newspaper stretched around the block at the Los Angeles Times' Times-Mirror Square. Interest was so high that The Times now sells a framed copy of that edition for $39.99.
Prices of old newspaper vary, depending on the magnitude of the event and, of course, what the market will bear. As for the best place to find them, without any intended irony, we'd have to say: Look online.
What other famous front pages would you like to own, and what do you think of these prices? Too much or not enough?
Dallas Morning News, Nov. 23, 1963 Kennedy Slain On Dallas Street for $13.50

New York Times, Sept. 12, 2001 U.S. Attacked $300

New York Daily News and Mirror Marilyn Monroe Found Dead $250

Chicago Daily News B-29s Bomb Tokyo: Japs $20

Los Angeles Times, Oct. 24, 1988, How Sweet It Is: Lasorda (Dodgers win World Series) $10

Washington Post, Aug. 9 1974 Nixon Resigns $54

New York Daily News, July 21, 1969 Man Lands On The Moon $30

Detroit Times, Nov. 3, 1948 Dewey and Truman Deadlocked $35

New Orleans Times Picayune, Aug. 27, 2005, Hurricane Katrina

BEFORE YOU GO
PHOTO GALLERY
Redditers Share How Tech Has Affected Their Lives