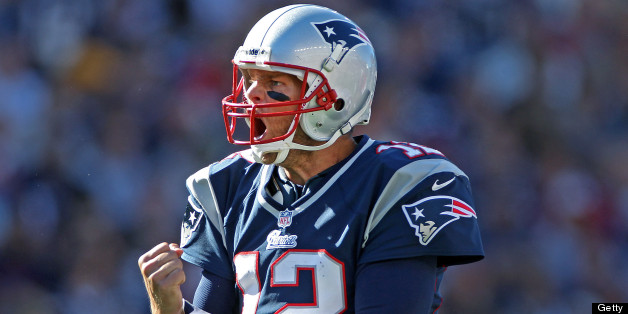 If fantasy football were a perfect science, you wouldn't be reading this column. In consideration of that imperfection, here are five marquee names who are due for a bust:
Tom Brady, QB, New England Patriots
Without six of his top seven wideouts from last season, Brady enters 2013 surrounded by question marks and insecurities. How will the absence of Wes Welker affect him on third down? Can Rob Gronkowski stay healthy enough to compensate for the loss of Aaron Hernandez? Brady is still an elite quarterback, but the position features remarkable depth this season, with guys like Russell Wilson, Matt Ryan, Tony Romo and Phillip Rivers (who is poised for a bounce-back season) going later in most drafts.
Colin Kaepernick, QB, San Francisco 49ers
It's tough to include him here because of his sheer talent, but Kaepernick is being highly overvalued in drafts right now. Receiver Michael Crabtree might miss the entire season, which puts immense pressure on free agent acquisition Anquan Boldin to be the guy. I wouldn't take Kaep over Russell Wilson or Andrew Luck.
Rashard Mendenhall, RB, Arizona Cardinals
Don't buy the name: Mendenhall has yet to show that he has fully recovered from the knee surgery that forced him to miss most of last season in Pittsburgh. Adjusting to a new offensive line, along with competition from the talented back Ryan Williams, could also affect his point totals: Mendenhall could become a TD vulture, but Williams is a big, physical runner with superior speed.
Kyle Rudolph, TE, Minnesota Vikings
Rudolph became QB Christian Ponder's major receiving threat last year, catching a healthy nine touchdowns. But his inconsistency is alarming, with seven games with 2 points or fewer. He's not necessarily a bad TE1, but Greg Jennings is there now and should become the clear-cut receiving weapon for Minnesota.
Mike Wallace, WR, Miami Dolphins
Wallace is gamble. He had two great seasons as a near-elite receiver when he wasn't just a speedster who went deep, he was tough and he didn't drop passes. Then last season, he managed a mere 836 yards, didn't run hard routes and looked like an entirely different player. The question is whether the Mike Wallace of 2013 or the earlier version was the fluke. The reality is probably somewhere in the middle. He's immensely talented and Ryan Tannehill has the arm strength to get him the ball down the field, but he could also struggle adjusting to a new system and a new quarterback. Bottom line is there are better, if less hyped, guys available as WR2s.
Email me at jordan.schultz@huffingtonpost.com or ask me questions about anything sports-related at @Schultz_Report. Also, be sure and catch my NBC Sports Radio show, "Kup and Schultz," which airs Sunday mornings from 9-12 ET, right here.
BEFORE YOU GO