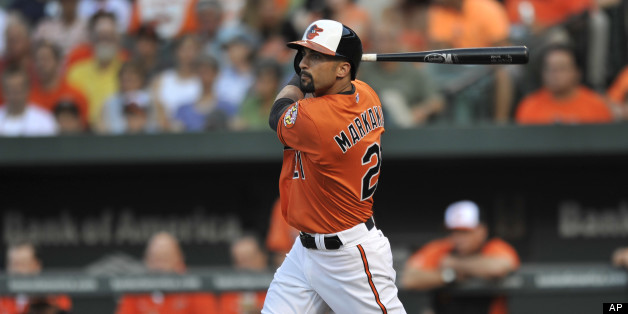 Baltimore Orioles star Nick Markakis isn't buying the apologies offered by baseball's drug cheats.
Shortly after league punished 13 players in the game's latest performance enhancing scandal, the 2011 Gold Glove winner ripped those who use PEDs to Dan Connolly of The Baltimore Sun.
"These guys are going to come out and say they are sorry and apologize. But I think for the most part they are apologizing because they got caught," Markakis said. "For you to go out there and disrespect the game is not only a slap in the face of the game, but a slap in the face of everyone that does it the right way."
Markakis also called for stricter penalties for first-time offenders, even if the punishment is a lifetime ban. The 29-year-old railed against PED-users for "taking opportunities away." He went as far as to say "they are basically stealing."
Others around the league shared the same sentiment as Markakis.
Detroit Tigers ace Max Scherzer, whose teammate and All-Star shortstop Jhonny Peralta was suspended for 50 games, told Chris Iott of MLive.com that "every player in here wants stiffer penalties."
"So as players, we have to find a way so the reward isn't there anymore and that we can always talk about baseball and not talk about PEDs and other things like this," Scherzer said.
Dodgers manager Don Mattingly said he hopes "penalties will get stiffer to the point where it just deters the players from trying," per CBS New York.
Here are some other past and present MLB players who shared their reactions to the suspensions.
PHOTO GALLERY
MLB Players Respond to Biogenesis Suspensions