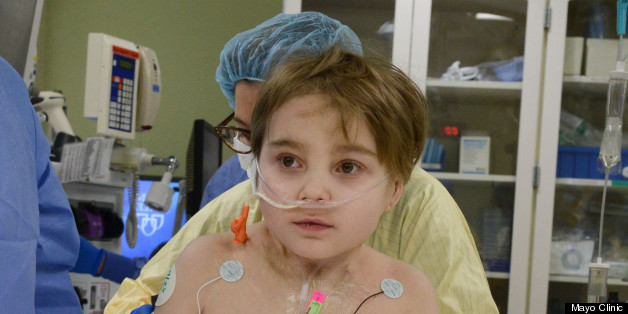 A little boy who spent nearly 500 days in the hospital just successfully underwent a kidney transplant once thought to be impossible.
Nine-year-old Robert 'Boo' Maddox contracted swine flu when he was 5 years old, and spent his 6th and 7th birthdays inside the Children's Hospital in New Orleans, suffering from infections and organ failure, the Times-Picayune reports.
According to ABC News, doctors told the family that Boo would never be a candidate for surgery because of dangerously high blood pressure in his lungs.
But Dr. Mikel Prieto, the surgical director at the Mayo Clinic in Rochester, Minn., remedied the cause of the high blood pressure -- removing the fistula that had connected artery and vein to allow for easy dialysis treatments. The engorged vessel had placed increased pressure on Boo's lungs and caused high pulmonary hypertension.
"I talked to his dad," Prieto told ABC News, "and said, 'I think maybe we can fix this.'"
Prieto also removed a blockage in one of Boo's veins, and both efforts made the kidney transplant possible. Boo's mother donated her kidney and on July 29, he underwent what Prieto estimates could have been his 70th surgery.
"Let's get this done," the 9-year-old told his family that morning, according to the Times-Picayune.
The surgery was successful and now Maddox is getting stronger everyday. Soon he'll be able to eat solid foods -- for the first time since December -- and go back to school, although he only ever went for a couple months in kindergarden before falling ill.
"He is like a brand new penny," his father Robert told the Town Talk Tuesday. "He's sitting up in bed right now."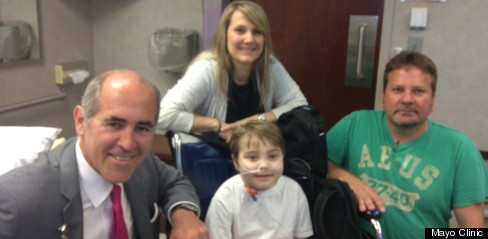 H/T: ABC News
BEFORE YOU GO
PHOTO GALLERY
Dads We Dig