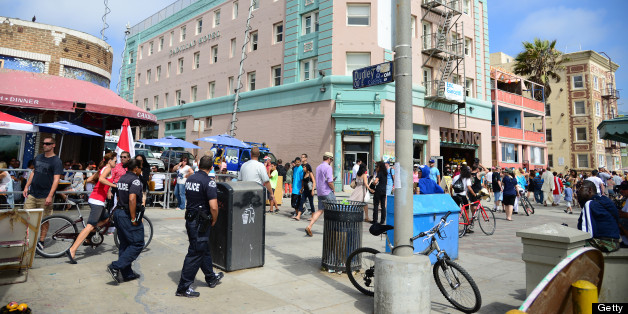 Mayor Eric Garcetti said Monday increased safety measures will be placed near the Venice Beach boardwalk after a speeding motorist careened through the popular thoroughfare over the weekend, killing one pedestrian, and injuring at least 16 others.
Speaking to reporters at a Getty House event, Garcetti said that increased "control" over the area was needed. The motorist in Saturday's deadly incident drove around four pylons, officials said, before entering the busy Venice oceanfront walkway.
"We're committed to making sure something like this can't happen again, or can't happen again as easily ever again," Garcetti said. Los Angeles County, which controls parking lots near the boardwalk, could potentially be asked to share the costs to increase security, he said.
Garcetti also said he would reach out to the family of Alice Gruppioni, 32, the Italian woman killed in Saturday's rampage. Gruppioni and her husband were visiting Venice on their honeymoon, officials said.
Witnesses described a chaotic and horrific scene Saturday night, as a dark Dodge Avenger sped down the boardwalk, the busy tourist attraction drawing million of tourists each year, and mowed down pedestrians in what police have described as an intentional act.
Nathan Campbell, 38, a transient from Colorado who had been recently living in Los Angeles, was arrested Saturday night after he turned himself in to the Santa Monica police station. He was booked on suspicion of murder at the Metropolitan Detention Center downtown, said LAPD Commander Andrew Smith. Bail was set for $1 million, he said.
Charges are expected to be filed Tuesday in the case, said an L.A. County District Attorney spokeswoman.
Gruppioni died of blunt force trauma to her head and neck, and her death was classified as a homicide, said Los Angeles County Coroner spokesman Ed Winter.
City Councilman Mike Bonin, who represents the Venice neighborhood, said he was told by LAPD officials that about a dozen drivers a day accidentally drive up on the walkway.
There are at least a dozen entry points to the boardwalk. Some of the streets have pylons, while others don't, Bonin said. Dudley Avenue, the roadway accessed by the motorist on Saturday, had four pylons, but the driver was able to go around the barrier.
Bonin said he would introduce a City Council motion Tuesday calling for a plan for more safety measures to be produced within 14 days for the Venice area. He also said better signage or additional pylons could be immediately installed if public safety officials deem it necessary.
Concrete planters or retractable pylons that could allow emergency vehicles access to the boardwalk could be erected near entry points, Bonin said, adding that he didn't want the barriers to ruin the character of the beach neighborhood.
"I want it to feel like a Venice beach, not a fortress," Bonin said.
Not all Venice locals think that more security measures would make a difference against a person committed to causing harm.
"If someone is bound and determined to do something like this, they are going to do it," said Gary John, who sells acrylic paintings on the boardwalk.
John said he has worked on the boardwalk for more than 10 years.
"That was just spontaneous. I have never seen anything so crazy," he said.
A vigil with a moment of silence was held Monday night to honor the victims. Flowers and candles lay on the pavement near the accident site, a small shrine to the newlywed couple. A wedding photo showed Gruppioni and her husband, Christian Casadei, who was at her side at the time and suffered minor injuries.
In a statement Monday, he called his wife "an immense gift: a gift that no one can ever understand. She gave happiness and joy to anyone who had the luck to know her.
"About our love, you cannot say more than it will remain a dream from which we will never wake," he said.
At the memorial near the accident site, one sign left among the flowers read: "Venice loves you Alice."
At 6 p.m. Bonin led a moment of silence at the intersection of Dudley Venue and Ocean Front Walk, the comer where the deadly rampage began.
"We pray tonight in faith that this community will heal, and heal strong and keep alive the spirit of Venice which is diverse and eclectic and artistic and we celebrate life every single day," Bonin said.
Volunteers handed out flowers donated by the local Whole Foods to passing tourists, many of whom were unaware of Saturday's incident.
Campbell remained in custody Monday on $1 million bail and few details have emerged about his life or background and no relatives or close friends have spoken publicly about him.
Campbell lived in Colorado as recently as last year, according to The Associated Press. He was evicted from his apartment in Denver for not paying $655 in rent in March 2012, records show.
He was sentenced to five days in jail after pleading guilty to shoplifting at a Denver supermarket in February 2009. Five months later, he was accused of trespassing at an outdoor mall in Denver and sentenced to 10 days in jail, court records show.
California authorities said no one with his name and birth date had a state driver's license.
The Associated Press contributed to this report.
BEFORE YOU GO
PHOTO GALLERY
Venice Boardwalk Hit-And-Run: A Timeline