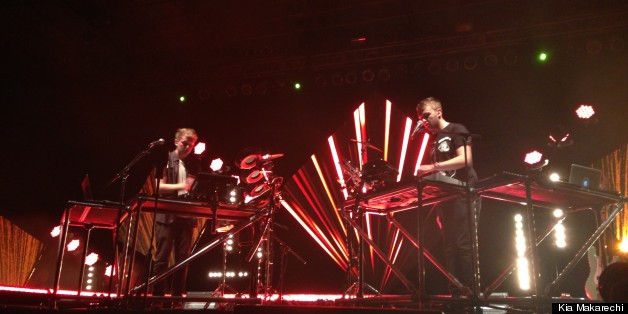 Disclosure headlined a swell show at New York's Central Park yesterday as part of SummerStage, offering attendees a one-two punch of dance music that's about as diverse as possible. If both acts hadn't performed so commendably, the combination of TNGHT's hard-driving, hip-hop inspired trap ("Blood on the Leaves," a track on Kanye West's "Yeezus," is actually just the entirety of TNGHT's "R U Ready" with a Nina Simone sample laid over it) and Disclosure's airy, easy listening party would have been a jarring mix.
TNGHT, who took over the decks from British opener Julio Bashmore, are Hudson Mohawke and Lunice, two of the most highly regarded producers on edge between Southern-inspired hip-hop elements and dance music's hardest genres. While there are plenty of electronic dance music acts currently brick-walling their way through uninspired but "face-melting" drops, HudMo and Lunice impress because their productions have a high level of musicality to them. Lunice adds to the theatricality of the show by dancing as erratically as possible, and a mid-set cameo by Mobb Deep certainly didn't hurt the impression they left on the New York crowd. In the wings, Been Trill boss and West's creative director Virgil Abloh had a permagrin on his face as TNGHT performed to a rabid audience that kept its hands in the air for the duration of the set.
Disclosure's meteoric rise to fame had set dizzying expectations for brothers Guy (21) and Howard (19) Lawrence, who exploded stateside on the strength of "Settle," a dazzling EP which features vocals from the likes of Jessie Ware, Sam Smith, AlunaGeorge and more. That their music features so many memorable guest artists could have made for an awkward performance, as fans looking to sing along with charming singers aren't always impressed by two British guys with lots of technology in front of them, but the Lawrences seemed to be having so much fun that the audience didn't seem too out of sorts that Aluna Francis wasn't around to sing "White Noise." It helped, of course, that Ware -- looking like a Chanel-ified Aaliyah -- came out for an excited performance of "Confess to Me." Smith was also present, closing the show with an awkwardness that melted away as soon as he started his inspired warbling on "Latch," the group's breakout single.
All in all, Tuesday's proceedings at Central Park were a good example of smart outdoor booking. SummerStage started in the mid-'80s, and with a history that includes Celia Cruz, Louis Armstrong, Vampire Weekend and the XX, it's a program worth noting for all New Yorkers. At the least, it's more enjoyable than sweat traps like Le Baron, the Chinatown nightclub which HudMo tweeted attempted to reject him from his own after-party.
BEFORE YOU GO
PHOTO GALLERY
Celebrity News & Photos