As they say, one man's trash is another man's treasure.
An archaeological investigation into Byzantine-era refuse pits revealed the truth behind this adage after researchers discovered an astonishing number of artifacts buried in pits on the Israeli central coast, according to a press release from the Israel Antiquities Authority (IAA).
The largest of the pits measures close to 30 meters (about 98 feet) across and was filled with the animal bone fragments and pottery shards one might expect in an ancient garbage pit. However, among the trash was also a mystifying amount of gold coins and jewelry.
"In the midst of the many sherds that were discovered in the big refuse pit was a large amount of usable artifacts, whose presence in the pit raises questions," professor Oren Tal of Tel Aviv University said in a statement. "Among other things, more than four hundred coins were found which are mostly Byzantine, including one gold coin, as well as two hundred whole and intact Samaritan lamps (among them lamps that were never used), rings and gold jewelry."
The items have been preliminarily dated between the fifth and seventh centuries A.D., according to the IAA. However the area where they were found, Apollonia National Park, is believed to have been inhabited for much longer. In fact, in 2004, the park was named a World Monuments Fund Watch site because of its historical importance.
According to the Jerusalem Post, a total of 10 researchers are assigned to the excavation, which began in mid-June. Led by Tal and IAA district archaeologist Moshe Ajami, the team has been intrigued by how jewelry and items that appear new ended up alongside common garbage.
"This is very fascinating," Tal told the Jerusalem Post. "You don't expect [intact lamps] to be found in dumps and refuse, because they need to be used and they need to be sold. Our understanding is that there is some sort of probable cultic aspect of intentionally discarding usable and intact vessels among the Samaritan community that inhabited Apollonia in the late Byzantine period."
The dig has also revealed clues about who exactly was living in the area during the fifth and sixth centuries.
"We didn't know that in this site we had so many Samaritan people in this period," Tal told the outlet. "It's a huge community."
Previous Byzantine finds in Israel include a large winepress and miniature model of a Byzantine church from 500 A.D. discovered southwest of Jerusalem in April. The miniature church in particular -- evidence that the owner was Christian -- was a very rare find, according to National Geographic.
PHOTOS: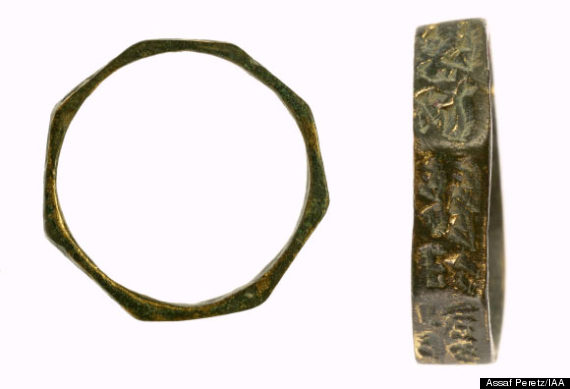 Bronze rings that were uncovered in the excavation.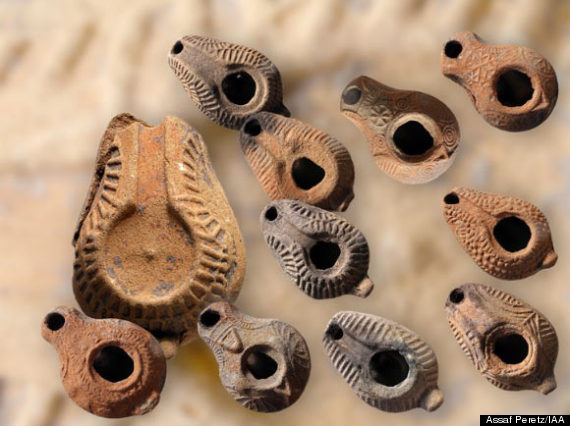 A cluster of Samaritan lamps found at the site. Photograph: Pavel Shargo, courtesy of the Institute of Archaeology, Tel Aviv University
BEFORE YOU GO