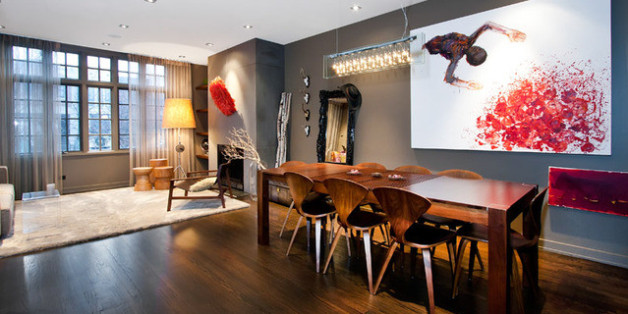 It appears Fall Out Boy guitarist Joe Trohman is moving on from Chicago -- or, at least from the Lincoln Park townhome he's owned for seven years.
Trohman's Embassy Club 2,000-square-foot condo, featured on a 2007 episode of MTV's Cribs (embedded below), hit the market Tuesday at a listing price of $869,000, Curbed Chicago reports.
Story continues below
PHOTO GALLERY
Fall Out Boy Star's Chicago Townhome For Sale
The three-story townhome, located at 2658 N. Southport, is fully renovated and has a very modern look with plenty of hardwood floors and a kitchen featuring state-of-the-art appliances that adjoins a walk-out deck, according to its listing on Estately.
As Chicago magazine points out, many of the unusual design finishes featured on Trohman's "Cribs" episode are still there -- minus a wall of moss encompassing a crucifix in the main foyer Jameson's Sotheby's agent Tim Salm said was taken down for showings and Trohman's many guitars and adorable pug, of course.
According to a Berg Properties blog post, Trohman bought the property for $685,000 in 2006.