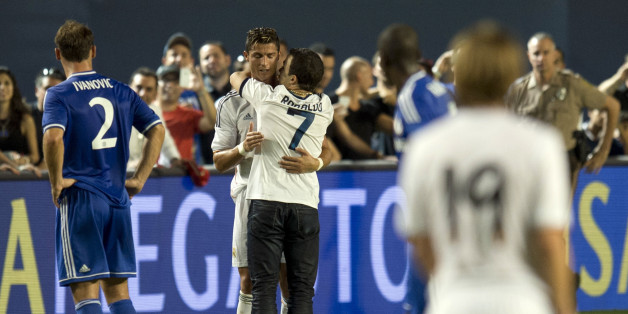 Note to future pitch invaders around the world: Cristiano Ronaldo is probably not going to hug you so don't get too inspired by this video.
While Real Madrid were taking on Jose Mourinho's Chelsea squad in the Guinness International Champions Cup in Miami on Wednesday evening, a fan stormed the field at Sun Life Stadium. Not only did this Ronaldo fan reach his hero but he actually got an embrace from the Portuguese star.
WATCH VIDEO ABOVE
With a surprising amount of poise and what sure looked like compassion, Ronaldo hugged the fan and chatted with him until security arrived.
That #Ronaldo moment with the fan, was initially frightening, but will be remembered for the decency and compassion CR7 showed.

— Rob Stone (@RobStoneONFOX) August 8, 2013
While not being chased by fans, Ronaldo was being chased by the Blues, without quite as much success. Ronaldo scored twice in Madrid's 2-1 win.
BEFORE YOU GO
PHOTO GALLERY
PHOTOS: Real Madrid vs. Chelsea