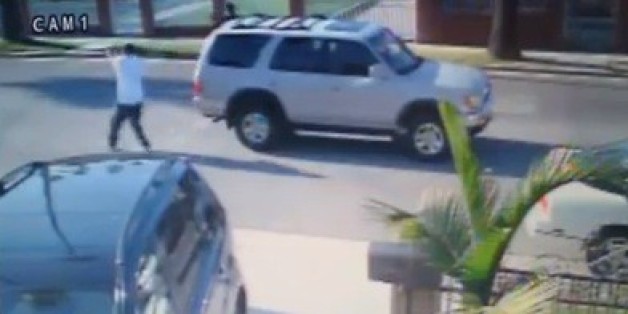 Footage from a neighborhood security camera could lead to the gunmen responsible for shooting a bicyclist in East Los Angeles.
The Los Angeles Police Department released the video Wednesday, along with a plea for the public's help identifying the two suspected gunmen. The graphic video shows a light-colored Toyota 4Runner passing a bicyclist on the road. Then the vehicle suddenly comes to a full stop and two people jump out of the car, guns raised. The suspects then appear to fire several rounds before hopping back into their car and speeding away.
Thankfully, the bicyclist sustained non life-threatening wounds and was treated at a nearby hospital.
The shooting, which took place Tuesday, July 30 at around 5:30 p.m. in the El Sereno area, could be gang related, according to the police. If you have information about the case, contact Detective Donna Cornejo at (323) 224-0104.
Warning: graphic video.
BEFORE YOU GO
PHOTO GALLERY
Five Years, 19 Mass Shootings, No Action