Microsoft promised that the $499 Xbox One will be an "all-in-one entertainment system," but we now know that gamers will have to pony up a little extra dough for the full experience.
On Wednesday, Microsoft quietly confirmed on its website that many of the next-generation console's new and highly touted features will require owners to shell out $60 annually for an Xbox Live Gold subscription.
That sleight of hand, first noticed by Ars Technica, indicates that features such as Skype video calling, in-game video recording and a television programming guide called OneGuide that browses and controls live TV will all be behind the Xbox Live Gold paywall.
Check out what Xbox One features will require an Xbox Live Gold account below.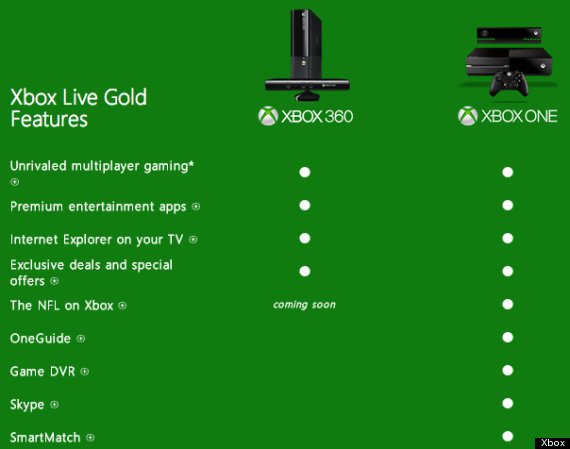 Owners of previous Xbox systems are used to paying Microsoft for additional perks. On Xbox 360, accessing Hulu Plus and Netflix meant paying $60 for Xbox Live. But for the many who still wonder why they must pay the Xbox Live fee to access services they already pay a subscription to, frustration remains.
Microsoft had already upset many gamers in June, when it announced several controversial features for the Xbox One, like restricting access to used games and requiring a once-a-day Internet connection. Though jabs from Sony and immense pressure from the Internet caused Microsoft to backtrack on the features, the PlayStation 4 has a bit less of a leg to stand on this time.
In June, Sony announced that for the first time it would charge gamers to access online multiplayer, to the tune of $50 a year. However, Shuhei Yoshida, president of Sony's Worldwide Studios, confirmed in three separate Twitter posts that access to services such as Netflix or in-game DVR will not require a costly PlayStation Plus account.
On the other hand, one video Microsoft put online on Thursday shows that the system comes with a free sticker. Your move, Sony.
BEFORE YOU GO
PHOTO GALLERY
Xbox One vs. PlayStation 4