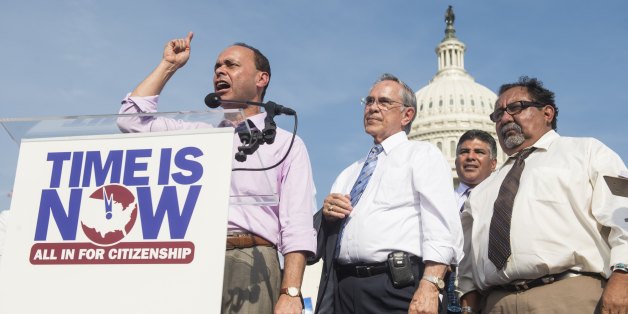 Republicans should be concerned about their deficit among Hispanic Americans. Democrats should be concerned about their incumbents in the South. And being that it's a Friday in August, we might as well all be concerned about Amelia Bedelia's mayoral campaign. This is HuffPollster for Friday, August 9, 2013.
HISPANIC AMERICANS LEAN DEMOCRATIC, REGARDLESS OF PLACE OF BIRTH - Gallup: "Hispanics in the U.S. identify with or lean toward the Democratic Party over the Republican Party by about a 2-to-1 margin, regardless of whether they were U.S.-born. Hispanics born outside the U.S. do have slightly less attachment to either party, and are more likely to be politically independent, but these differences do little to alter the basic underlying advantage Democrats enjoy across the entire Hispanic population....This significant Democratic advantage among Hispanics, regardless of whether they are U.S.-born or immigrants, suggests that simply waiting for Hispanics to assimilate will not be a successful strategy for Republicans hoping to capture a greater percentage of the Hispanic vote." [Gallup]
A quandary for the GOP - Sean Sullivan: "And therein lies one of the political dilemmas for Republicans with regard to immigration reform. On the one hand, supporting comprehensive reform that includes a path to citizenship for illegal immigrants would mean legalizing a group of potential voters who have largely lined up against the GOP and joining a cause Democrats have been championing for years and will also take credit for. On the other, many in the GOP realize it must repair its weak relationship with Hispanics beginning somewhere, and embracing immigration reform seems like a natural place to start." [WaPost]
'KEY METRICS' TO WATCH FOR IN 2014 - Cook Political Report: "Will the factors which dominated the 2012 elections continue to play a major role in 2014? Will Republicans' issues with minority, female, young, and moderate voters persist? Or will the historical pattern of second-term presidents running into problems push the outcome in the opposite direction? Finally, will the Affordable Care Act (otherwise known as "Obamacare") become a liability for Democrats once again, in the way it did in 2010?" Their five metrics to watch: approval ratings, consumer confidence, attitudes toward healthcare, party favorability ratings and the generic Congressional ballot test. [Cook, HuffPollster charts]
Dave Wasserman - "There are now twice as many Dem House seats in Lean & Toss Up (24) than GOP seats (12) in our ratings....Our Topline Outlook @CookPolitical continues to be a Republican net gain of 2-7 House seats in 2014." [@Redistrict, House race ratings]
Another factor to watch: the fate of Southern Dems - Donna Cassata: "Republicans are counting on some Southern comfort to win Senate control next year. The fate of Democratic incumbents in GOP-trending Arkansas, Louisiana and North Carolina, the ability of the 71-year-old GOP leader to hold his Kentucky seat and the eventual outcome of a Georgia primary will help decide whether Republicans gain the six seats necessary to grab power in the Senate for the final two years of Barack Obama's presidency.....Overall numbers and geography favor the GOP — 21 Democratic seats are on state ballots compared with 14 Republican. Seven of the Democratic seats are in states that Obama lost in 2012 to Republican Mitt Romney, some by 15 points or more. Adding to the GOP bullishness: Democratic retirements in three of the seven states — West Virginia, Montana and South Dakota — and a few recruiting disappointments....Still, Republicans had a similar edge in 2010 and 2012, and failed to take control because of flawed candidates and ill-conceived remarks. The GOP list of lost opportunities is long — Delaware, Colorado, Nevada in 2010, Missouri, Indiana, North Dakota and Montana in 2012." [AP]
ON TAP FOR MONDAY - Siena press release: "The Siena College Research Institute will release a new [poll] August 12th, featuring the attitude of New York voters on the political comeback candidacies of Eliot Spitzer and Anthony Weiner. The poll looks at how voters rate Governor Cuomo, including whether he's been an effective governor and would make a good president."
HUFFPOLLSTER VIA EMAIL! - You can receive this daily update every weekday via email! Just enter your email address in the box on the upper right corner of this page, and click "sign up." That's all there is to it (and you can unsubscribe anytime).
FRIDAY'S 'OUTLIERS' - Links to more news at the intersection of polling, politics and political data:
-Most Americans say it's essential that immigrants to the country learn English. [Gallup]
-A political science paper finds that " abstract gender stereotypes" have little effect on women candidates. [The Monkey Cage]
-Amy Walter chronicles Republicans' latest attempt to reach female voters. [Cook]
-Asked if Obamacare implementation is "going fine" or "a joke," most Americans pick the latter. [Fox]
-Four lessons from Amelia Bedelia's failed mayoral run. [ Roll Call]