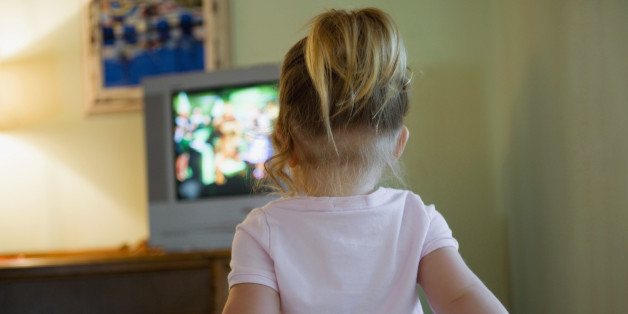 Yet another data point has been added to the ongoing debate over how much TV watching is too much for young children.
A study of Canadian children has found that even an extra hour of TV time -- above the daily average of 72 minutes -- could significantly harm a child's performance in kindergarten, reports Science Daily.
Professor Linda Pagani of the University of Montreal and the CHU Sainte-Justine children's hospital conducted the study and told Newswise that more time spent in front of the TV significantly decreases vocabulary and math skills, classroom engagement, attention skills, and physical prowess in kindergarten.
In addition, above average TV time also correlated with an increased risk for victimization by classmates.
Nine hundred ninety-one girls and 1,006 boys in Quebec had their TV viewing logged by parents as part of the as part of the Quebec Longitudinal Study of Child Development.
"Kindergarten entry characteristics predict long-term psycho-social adjustment and economic characteristics like income and academic attainment," Pagani told Newswise. "It seems that every extra hour beyond that has a remarkably negative influence."
These results conflict, slightly, with others released in the U.K. this past May, in which more than 11,00 children had their TV hours recorded. The New York Daily News reported of those results: "a study of five-year-olds found that those who watch TV for three more hours a day were only at a slightly higher risk of being antisocial."
The American Academy of Pediatrics discourages watching television during infancy and recommends no more than two hours per day beyond age 2 since a child's future relies heavily on early developmental skills.
BEFORE YOU GO
PHOTO GALLERY
Studies About Kids And Technology