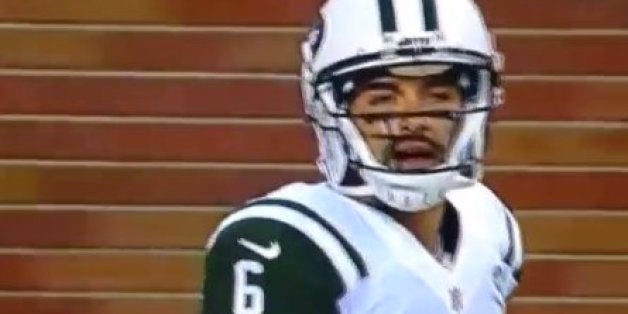 On the bright side, this Mark Sanchez turnover was not caused by anyone's rear end.
The New York Jets' embattled quarterback opened his preseason campaign exactly like his detractors would have guessed. On just his fourth play from scrimmage, Sanchez threw an interception. Backpedaling in the face of pressure from Detroit Lions defensive end Willie Young, Sanchez attempted to dump a short pass off to someone. According to the play-by-play log at NFL.com, fullback Tommy Bohanon was the intended target. Of course, Sanchez's intentions were rendered largely irrelevant by his actual throw. That toss was intercepted by 6' 5" rookie Ziggy Ansah at the 14-yard line. The first-year defensive end snagged the pass, gathered himself and then rumbled for the opening score of the game.
WATCH: Mark Sanchez Throws Pick-6
To Sanchez's credit, he did bounce back from this nightmare start to post some respectable numbers before giving way to Geno Smith, even throwing a touchdown pass to one of his own teammates. After an 8-play second drive ended with a punt, Sanchez piloted the Jets' offense on an 7-play, 80-yard scoring drive that ended with a 26-yard touchdown pass to tight end Jeff Cumberland. Sanchez finished 10-13 for 125 yards with one TD and one INT in three series.
BEFORE YOU GO
PHOTO GALLERY
PHOTOS: Jets vs. Lions