A naked woman's cast-bound legs are spread. A naked man lies between her thighs, muscles tensed. And it's all in the name of ... science? Well, it's in the name of calling attention to a science exhibit.
The Science World museum in Vancouver got hot and heavy in an ad for its "Science of Sexuality" show, which runs until Sept. 2 and explores sexual development while aiming to put sexuality in a positive light. The ad's caption (see below) reads, "Orgasms Can Kill Pain."
"We like to put the word out there in ways you'll remember," museum spokesman Jason Bosher told The Huffington Post. "We take science seriously, but we don't take ourselves seriously."
The eye-catching campaign from the Rethink agency also spotlights orgasm's analgesic effect.
Beverly Whipple, co-author of The Science of Orgasm, told LifeScript that orgasms increase pain thresholds by more than 108 percent. In experiments on rats, orgasms produced a pain-killing effect equal to "10 milligrams of morphine per kilogram of body weight," she said.
The climax triggers a surge of the hormone called oxytocin, which acts as a positive neurotransmitter to the brain, Woman's Day reports. The pain-easing effect lasts for about 10 minutes.
(Hat tip, Ads of the World)
LOOK: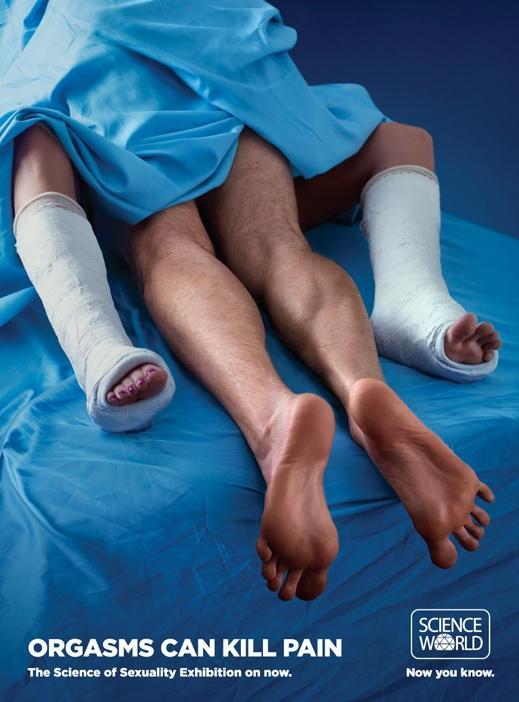 Credit: Science World
BEFORE YOU GO
PHOTO GALLERY
Science Tattoos