The Andy Warhol Bridge is receiving a knitted makeover courtesy of a community group in Pittsburgh, Pennsylvania this weekend. Pegged as the largest yarn-bomb in the United States, the crafty project will bring more than 600 colorful blankets to the city's landmark, covering most of the metal structure in knitted or crocheted masterpieces.
According to Post Gazette, the clever endeavor is the brainchild of Knit the Bridge, a team of around 250 volunteers who managed to raise over $100,000 to realize their yarn dreams. The finished product will be a part of Fiberart International 2013, and will be on view until September 6th, 2013.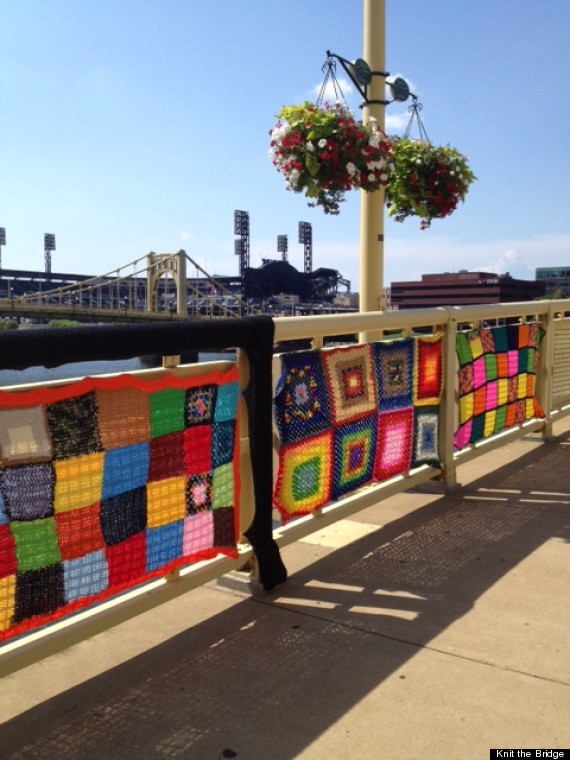 "Knit the Bridge celebrates the history of Pittsburgh as a city of bridges and steel as well as the region's thriving, contemporary arts scene," the group writes on their website. "Unlike graffiti, yarn bombing can be done without any
damage to historic structures and is temporary and easily removable."
We're pretty sure Andy himself would have loved the gesture. Construction begins August 10th and will last into the 11th. If you'd like to watch the yarn transformation, Knit the Bridge suggests landing a spot between 6th and 9th street with a view of the towering structure.
Stay tuned for photographs of the exciting makeover.