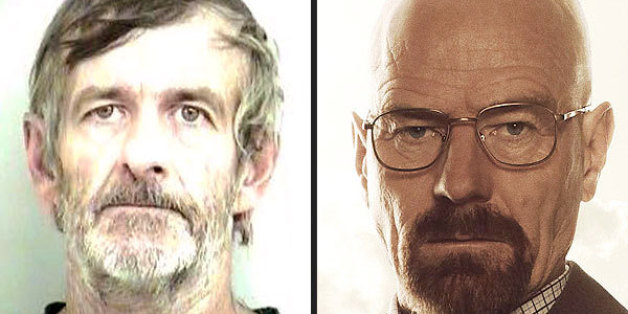 A guy opens his web browser and reads a story -- and you think that of me? No! I am the one who writes!
We're so excited for the final episodes of "Breaking Bad" that we've been reading our favorite real-life methamphetamine stories to get pumped. Walter White could take some tips from some of the suspects here, or at least note what not to do.
If there's any spoiler in this article, it's that the real-life Walter White got arrested. In September of last year, Walter Eddy White was put on probation after he was accused of trafficking and manufacturing methamphetamine. There's no word on whether he made the blue stuff, but the 55-year-old was later captured in Tuscaloosa County, Alabama, according to LAist.
Then, there's William Duncan of Cass County, Texas. He doesn't share the Walter White name, but he does share the occupation. He's a chemistry teacher who was arrested for selling meth to undercover officers in the parking lot of the junior high school where he worked.
Better call Saul!
Image via Tumblr
Statistically speaking, the fictional Walter White doesn't stand a chance. Everyone seems to get caught, at least according to our breadth of methamphetamine stories. Even geniuses, like Christie Harris of Oklahoma, get collared. She was arrested in July after cops allegedly found a loaded gun hidden in her vagina and meth in her butt.
If WW does get caught -- and by "WW," we mean Willy Wonka, Walt Whitman or Walter White -- hopefully he won't have an excuse like three men in North Carolina, who said they trekked into the forest looking for ghosts. They were arrested earlier this month after calling a dispatcher to report that they were lost in the woods. Police found that they were really just cooking.
What do you think will happen in the final episodes of "Breaking Bad?"
BEFORE YOU GO
PHOTO GALLERY
"Breaking Bad" cast