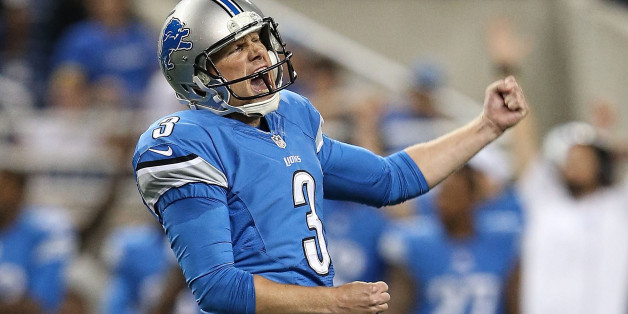 "Effective" is a word that could be used to describe the NFL preseason debut of Detroit Lions kicker Havard Rugland. "Exuberant" is another. Perhaps the best word to describe both Rugland and his 2-for-2 performance in the Lions' 26-17 preseason win over the New York Jets on Friday is his nickname: "Kickalicious."
The 28-year-old rookie kicker from Norway first gained notoriety with a trick shot video that went viral. Thanks in part to his YouTube hit, Rugland earned a chance to make the Lions. After a hot start in training camp while competing with veteran kicker David Akers, Lions general manager Martin Mayhew tempered enthusiasm for Rugland.
"He's done an impressive job, but I don't want to get out ahead of ourselves," Mayhew said in July, via The Associated Press. "He's never played in a National Football League game. He hasn't played a preseason game. I'd like to see him do that before we start making a judgment on him."
In his first preseason game, Rugland gave fans and teammates a glimpse of how he earned his nickname, converting both his field goal attempts. Playing in the second half, Rugland was good on kicks from 49 and 50 yards. In the first half, Akers was good from 35 and 47 yards.
"It felt great," Rugland said after the game, via the Lions' official website. "Especially to see that first one go in the uprights. I have great teammates and it's just a big relief to see it go in. It's always nice to have a good start."
At least one of those teammates that Rugland mentioned also sounded pleased to have him around.
"I think we're all happy to have him as a teammate," said Lions quarterback Matthew Stafford, via Lions.com. "The guy is a great guy. It's refreshing to see how much fun he's having. The guy's having a blast here, and he's kicking the ball great."
Of course, Stafford and the rest of the Lions offense could prefer Akers step onto the field with the game on the line.
BEFORE YOU GO
PHOTO GALLERY
PHOTOS: Jets vs. Lions